Arianespace to Launch Europe's Final Mission of 2023 Aboard Vega in September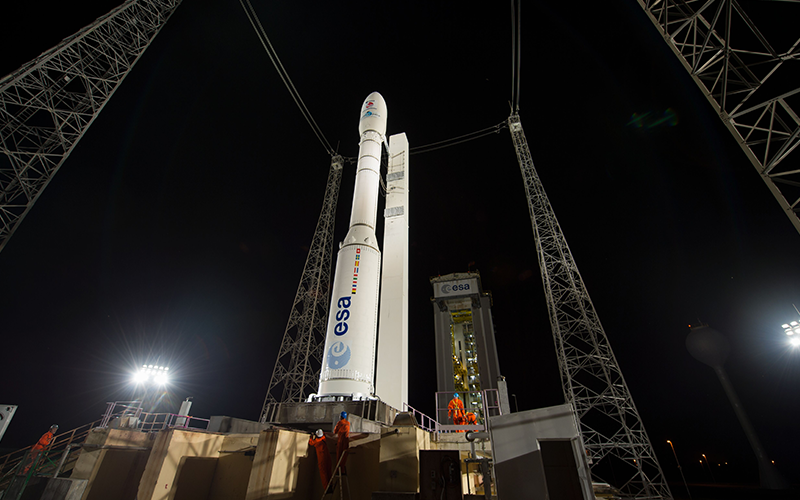 No products in the cart.
No products in the cart.
No products in the cart.
After ESA confirmed Ariane 6 would not debut until 2024 and the return to flight of Vega C suffered a setback following a failed test, it appears that Europe can look forward to just one more launch in 2023.
The Arianespace-managed mission will be launched will be aboard a Vega rocket and is scheduled to lift off from the Guiana Space Centre in French Guiana in September. Vega has remained operational despite the grounding of Vega C as the two do not share the Zefiro 40 second stage that was identified as the source of the December 2022 failure.
On July 27, Avio CEO Giulio Ranzo shared on LinkedIn that the Vega vehicle that will be utilized for the flight had been integrated on its launch pad in French Guiana. Ranzo utilizes his personal LinkedIn profile to share significantly more information than is shared on his company's official social media accounts or website press pages. In addition to updates regarding the progress of Vega launch campaigns, Ranzo also shares updates on the development of the company's M10 engine which will be utilized aboard Vega E, the successor to the still grounded Vega C. It's a strange avenue of transparency for a company that is generally not known for being open to sharing a great deal of information.
The next major step will be the integration of the payload adaptor to the now fully stacked vehicle. On July 28, launch aggregator SAB Launch Services shared that the Small Spacecraft Mission Service (SSMS) dispenser for the Vega flight was undergoing final preparations before payload integration begins. Then, on August 14, Beyond Gravity revealed that PRETTY, an ESA cubesat that will be launched aboard the flight, had been placed on its deployer indicating that payload integration had begun. Once all the mission's payloads have been fully integrated, the SSMS dispenser will be enclosed in the rocket's fairings and placed on top of the four-stage stack.
According to Arianespace, flight VV23 will be launched into a sun-synchronous orbit at an altitude of 560 kilometres. The flight's confirmed manifest was shared with European Spaceflight by a source that has chosen to remain anonymous.
Primary passengers:
Auxiliary passengers (cubesats):
The September launch of Vega will be the vehicle's second to last flight. Its retirement is likely to occur in 2024. To date, it has been launched a total of 20 times, suffering two failures.
Update: The article was updated on 16 August 2023 to include the confirmed launch manifest that was provided by a source who has chosen to remain anonymous.
European Spaceflight LTD Company number: 14287328 Registered address: Unit 13 Freeland Park, Wareham Road, Lytchett Matravers, BH16 6FA, Poole, UK
Contact number: +44 7873 215465
© European Spaceflight (2022)