Demystifying ArianeGroup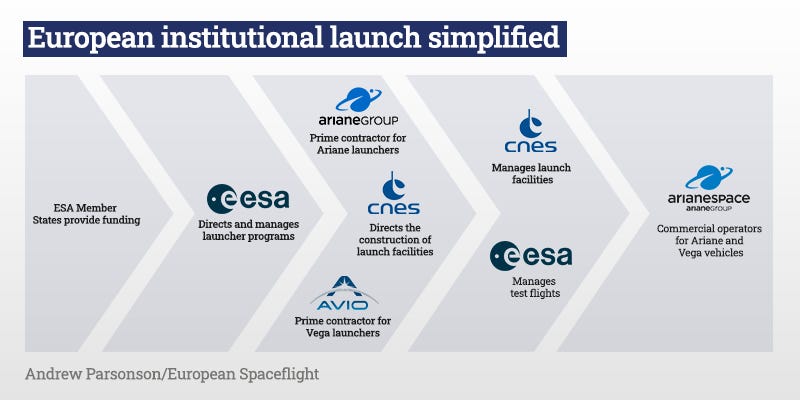 Issue 47. Subscribers 1,612.
I don't expect I'll make many friends at ArianeGroup with this week's main story but confusion around this subject, in my opinion, is detrimental to the European launch market.
Not yet a subscriber?
To my 41 new subscribers, enjoy your first issue and, as always, if you have any comments, suggestions, or tips, please reply to this email.
I often see the names Arianespace and ArianeGroup used interchangeably. This is a problem but one that, I believe, was engineered.
Arianespace was founded in December 1979 immediately after the maiden flight of Ariane 1. Since then, the company has overseen the launch of every single mission of the Ariane launch vehicle family plus, more recently, those of Vega and, until recently, a special variant of Soyuz.
ArianeGroup, on the other hand, was founded in 2015 and has not successfully developed and brought to market a single Ariane launch vehicle, with Ariane 6 set to be the company's first when the vehicle is launched on its maiden flight. In fact, ArianeGroup isn't even responsible for a single one of the Ariane 5 variants that have been developed and launched. The ArianeGroup name is a deception that gives the company pedigree that it has not earned.
Now before I continue, let me make it clear that this is not an indictment of the amazing individuals who work at ArianeGroup, many of which are the best and brightest Europe has to offer. It is rather a critique of a political and management structure that has hijacked the European launch industry and all but driven it into the ground thanks to poor strategic planning and an overinflated sense of importance from industry and governmental leadership.
This is annoyingly complicated. Aérospatiale was a French state-owned company founded in 1970 under the name Société nationale industrielle aérospatiale (SNIAS). The company was the result of a merger between Sud Aviation, Nord Aviation and Société d'étude et de réalisation d'engins balistiques (SEREB). SEREB is notable because it was behind France's Pierres Précieuses (Precious Stones) programme that resulted in the development of the Diamant rocket which would be the first launch vehicle developed outside the US or Russia (or rather the USSR) to successfully deploy a satellite into orbit. Aérospatiale became Europe's go-to contractor to develop launch vehicles with the company being behind all of the Ariane family from Ariane 1 to Ariane 5.
In the 1990s things start to get complicated. In 1999 Aérospatiale merged with Matra Haute Technologie to form Aérospatiale-Matra. The company then merged with Construcciones Aeronáuticas and DaimlerChrysler Aerospace to form the European Aeronautic Defence and Space Company (EADS) in the early 2000s. In 2014 Airbus restructured merging EADS, Airbus Military, Astrium, and Cassidian into Airbus Defence and Space.
So, how does Ariane Group fit into all this? Well, in June 2014, Airbus and Safran, who together owned 39 percent of Arianespace, proposed a merger that included buying out a 35% stake of Arianespace that was held by CNES for €150 million. The announcement came with a surprising new Ariane 6 design that completely upended the current leading design that focused on utilizing solid rocket motors for the boosters, first stage, and second stage with a Vinci-powered third stage (more on my thoughts about this later).
The formation of the new company, founded under the Airbus Safran Launchers, was announced later that year. The finalization of the purchase of the CNES Arianespace stake would, however, take longer, with the deal being subjected to antitrust investigations by the European Commission. These investigations would ultimately not block the purchase with the inquiry more focused on Airbus receiving preferential treatment than the deal cementing a monopoly in the European launch industry.
In May 2017 Airbus Safran Launchers announced that it had rebranded to ArianeGroup. According to this SpaceNews article, the rebranding was an effort to "provide greater brand coherence with its subsidiary Arianespace." I don't think I've ever heard of a company rebranding to align with the identity of a subsidiary. Am I crazy or is it usually the other way around?
All this is important to understand because it puts into context how manipulatively ArianeGroup has framed its history or lack thereof.
On the ArianeGroup website, there is an Our History section that is a masterclass in deception and spin. Although nothing on the page is strictly a lie, it frames and contorts the truth until it's all but unrecognizable.
The page kicks off with the claim that ArianeGroup's heritage reaches back to France's very first space program. As I pointed out above, this is not strictly false but it certainly does stretch the truth.
This claim of long-standing heritage is reinforced a few sentences later with the claim that since 1971, ArianeGroup and forerunner companies have also provided key support for the French deterrent force. Again, technical not incorrect but the phrasing pushes the reader to assume that ArianeGroup was founded as far back as 1971 which it obviously wasn't. This deception is further reinforced by a timeline that starts in 1965 with the launch of the first French satellite aboard a Diamant rocket and does not include the founding of ArianeGroup in 2015. The founding of the company seems like a significant event in its history, so why is it not on the timeline? Well, because then you might start to ask questions about the legitimacy of the company's heritage. Again, the company seeks to utilize the reputation of others when its connection to those achievements is tangential at best.
What's also worth noting is that Airbus Defence and Space still exists. This division of Airbus is arguably the real beneficiary of the decades of heritage acquired through the countless mergers.
ArianeGroup, according to its website, employs approximately 9,000 people in France and Germany and raked in €3.1 billion in revenue for 2021. This is obviously not just its rocket business.
The company's subsidiaries Euro Cryospace, Europropulsion, and Regulas are all directly involved with the development of Ariane and/or Vega launch vehicles. Aerospace Propulsion Products' (APP) primary activities are also Ariane and Vega launcher development related, but the company also produces gas generators and extinguishers for safety applications. These four companies employ around 400 people. ArianeGroup owns 100% of APP, 45% of Euro Cyrospace (with Air Liquide owning the other 55%), 50% of Europropulsion (Avio has the other 50%), and 40% of Regulas (Avo has the other 60%).
Pyroalliance is also involved in the development of Ariane and Vega launchers, but it also has a defence component. It is involved in the production of the M51 submarine-launched ballistic missile (for which it's the prime contractor) among other projects. The company employs 140 with ArianeGroup holding 90% of the company with Autoliv, which appears to be an automotive safety company, holding the reaming 10%.
Starsem is an interesting one. The company markets Soyuz launches from Baikonur in Kazakhstan. The company also supports the operation of Soyuz from French Guiana. The company has four main shareholders: ArianeGroup (35%), Roscosmos (25%), RKTs Progress (25%), and Arianespace (15%). It employs around 10 people and is headquartered in Courcouronnes, France. This company appears to still be in operation despite the succession of Soyuz launches managed or involving ArianeGroup or Arianespace following Russia's invasion of Ukraine. However, public filings do show that in June 2022 the company did file for a six-month extension to submit its financial statements due to its uncertain future. Interestingly, this application includes the line (translated from French using Google Translate): "the decision of the Russian Federation to cease all launching and put an end to France-Russian space cooperation." I had thought that this decision had come from Europe and Arianespace and not from Russia. I could be losing something in translation. The financial statements that are currently available show that Starsem had a net income of €-1.1K for 2020.
Then there are a few subsidiaries that deal with technology that has applications in space in addition to a few other domains.
Nuclétudes designs hardening solutions against radiation and electromagnetic aggression for the space, defence, aeronautical and nuclear industries. ArianeGroup owns 98.9% of the company with the remaining 1.1% being held by private shareholders.
Sodern develops and produces optical, optronic, and neutron systems and equipment for applications in the space, defence, and industrial fields. Interestingly, this is one of the company's largest subsidiaries employing 370 people. ArianeGroup owns 90% of Sodern and CEA (the French Atomic Energy Commission) the other 10%.
Cilas is, according to ArianeGroup, one of the world leaders in optronic and laser systems for civil and military applications. One of the products the company produces is pre-shot sniper detectors. The company employs 240 and is owned by ArianeGroup (63%) and Luminird (37%), a company specializing in lasers for various applications.
I left Arianespace for the last of the official subsidiaries because it's the most complex when it comes to ownership. The company is, of course, responsible for the marketing, management, and launch of the Ariane and Vega launch vehicles. It was also, until recently, responsible for the launch of a variant of the Soyuz launch vehicle specifically tooled for the jungle climate of French Guiana. 74% of the Arianespace share capital is owned by ArianeGroup which goes back to that initial deal struck with CNES for its 35% stack in the company. The remaining 24% of Arianespace is controlled by 18 separate shareholders: S.A.B.C.A. SA, Thales Alenia Space Belgium, Safran Aero Boosters, Air Liquide SA, Airbus Safran Launchers Holding, Clemessy SA, Compagnie Deutsch SAS, Airbus Safran Launchers GmbH, MT Aerospace AG, Avio, Airbus Defence, and Space Netherlands, Kongsberg Defence & Aerospace AS, Airbus Defence and Space SAU, CRISA, GKN Aerospace Sweden AB, RUAG Space AB, and RUAG Schweiz AG. The 18th shareholder is an interesting one as it's the only individual with a share of the company and that individual is Danish politician Christian Rovsing. This is likely due to the fact that Rovsing is one of the co-founders of Arianespace.
The above are the subsidiaries that ArianeGroup lists on its website. Through a search of public filings across Europe, I managed to find a few other interesting subsidiaries.
In Germany, the company has a subsidiary called ArianeGroup Grundstücksverwaltungs (property management). There is no information about this ArianeGroup subsidiary online, but public filings indicate that as of the end of 2020, it held €1.48 million euros in land, land rights, and buildings which are presumably in Germany. As the country doesn't have any efficient way to search through land records, this subsidiary may be one for me to revisit at a later date when I have time to do the legwork. This company is associated with another ArianeGroup subsidiary in Germany called ArianeGroup Real Estate.
Another interesting subsidiary is Eurockot Launch Services which ArianeGroup holds a 51% stake with the Khrunichev Space Center controlling the remaining 49%. The company's only focus was launching the Rockot launch vehicle which it did up until the vehicle's final flight in December 2019. The company is headquartered in Germany and, from what I can tell, is still active. In public filings for the end of 2020 (a full year after the last Rockot flight) the company still had €6.5 million on the books with €4.7 million from advance payments made and €1.3 million in the bank.
There is, of course, also MaiaSpace. The company is currently working towards developing a reusable microlauncher that will be capable of launching 500 kg payloads into orbit when it is being recovered. The project has a complicated backstory that appears to originate at CNES before being incubated at ArianeWorks, the skunkworks division of ArianeGroup that was responsible for the early development of Prometheus and Themis and was closed in 2022. To date, ArianeGroup has invested €10.9 million into the company.
Then there are the various subsidiaries that are specific to ArianeGroup. ArianeGroup GMBH and ArianeGroup SAS are the company's legal entities in Germany and France. Then there's ArianeGroup Holding which is registered in France and provides "strategic, commercial, financial, accounting, legal, tax, human resources, administrative, and IT" services to ArianeGroup. This is the vehicle that ArianeGroup has used to invest in MaiaSpace. There is also Arianespace Participation which appears to be an investment vehicle for Arianespace with MT Aerospace, GKN Aerospace Sweden, Beyond Gravity Switzerland and Avio all listed as administrators of the company along with ArianeGroup GmbH and ArianeGroup Holding.
In researching the various subsidiaries of ArianeGroup I was surprised at how much of its business was not launch vehicle-related. I'm not sure if I understand why a company that was founded specifically to build Ariane launch vehicles is splitting its focus to this degree.
ArianeGroup was created to win the Ariane 6 prime development contract. At the time Airbus and Safran announced its Ariane 6 design, ESA had already spent around 18 months putting together a launcher design that relied on three solid fuel stages. The design was created specifically to hit three key development targets: a €70 million launch cost, development costs as low as possible, and a service introduction of around 2020. With the acceptance of the current Ariane 6 design, at least two of those development targets were completely blown out of the water. I am skeptical Ariane 6 will be able to achieve the third by offering flights starting from €70 million.
It should be noted that I'm not sure the solid-fuel variant was the right path to pursue. However, I do think we'd likely not be facing the crisis we are today had we opted for that approach. Ariane 6 was always going to be a stopgap between Araine 5 and a future launcher with some reusability integrated into its design. The solid-fuel booster would have been an affordable method of bridging that gap. The current design, in my opinion, is not.
In a 2014 statement following Airbus and Safran announcing its plans, Airbus Group Chief Executive Tom Enders stated that the formation of ArianeGroup was about enhancing the competitiveness of our space launcher business going forward. Our agreement with Safran is the starting point of an exciting journey towards a more integrated, more efficient, and hence more profitable launcher business in Europe, he said. How hollow these words ring in 2023.
The origins of the Ariane family of launch vehicles were built around a state-driven bringing together of the best and the brightest to ensure that Europe was not left behind by Russia and the US. Perhaps it is again time for ESA to call on the best and brightest across Europe to come together to save us from the grip of ArianeGroup and once again ensure that we do not get left behind.
It could be worse - An independent inquiry commission has completed its investigation of the Vega C VV22 failure that occurred in December 2022. The commission found that a flaw in the carbon-carbon material utilized for the throat insert of the Zefiro 40 second stage nozzle was the root cause of the failure. It recommended that Avio use an alternative solution manufactured by ArianeGroup in addition to corrective actions around the approval of hardware for flight. The change will take time with the vehicle expected to return to flight by the end of 2023. In order to fill a small portion of the lost launch capacity, Arianespace has made the decision to reassign a Vega C mission to one of its two remaining Vega launchers. The mission is expected to be launched before the end of the summer.
Spaceport Cornwall left without a date at the dance - According to a BBC report, Virgin Orbit has ended its contract with Spaceport Cornwall. The company has stated, however, that it still hoped to launch from the site in the future. This leaves the future of Spaceport Cornwall uncertain with not a single customer having pledged to launch from the facility leaving only the lukewarm commitment from Virgin Orbit. Interestingly, the BBC report was followed a few days later by a public filing from Virgin Orbit to change the company's address. The new address is a nine-minute walk from its previous address and there has been no official announcement regarding the change. However, Virgin Mobile was a tenant at the previous address and an expansion of that company's capacity may have resulted in there being no space for the Virgin Orbit team, assuming there is a team. Public filings for the year ending 2021 indicated that the company employed a grand total of zero people. This may, however, have changed in the company's run-up to the failed 9 January 2023 mission from Spaceport Cornwall.
Job hunting? You're in luck - According to ESA Director General Josef Aschbacher ESA plans to hire 350 people in 2023. Around 200 of the total will be new positions while the remaining 150 will be as the result of planned retirements. More than 30 of the vacancies have already been published and cover engineering, IT, law, and project control. The agency employs more than 2,600 individuals across nine locations around Europe. The 200 new positions, as a result, will represent a 7.7% increase in the size of the ESA workforce.
One time to rule them all - ESA proposed the creation of a lunar standard time that it says will be required to ensure the smooth operation of the dozens of missions that are expected to be launched to the Moon in the coming decade. The proposal began at the agency's ESTEC technology centre in the Netherlands last November. The discussion is part of a larger effort to agree on a common 'LunaNet' architecture. LunaNet is a proposed framework of mutually agreed-upon standards, protocols, and interface requirements allowing future lunar missions to work together.
A new face for ESA science - The UK's Prof. Carole Mundell has been named as the new ESA Director of Science and Head of ESAC. Prior to joining the agency she was at the University of Bath where she held the Hiroko Sherwin Chair in Extragalactic Astronomy, was the founding Head of Astrophysics, and served as Head of the Department of Physics. She became the first woman Chief Scientific Adviser at the UK's Foreign and Commonwealth Office in 2018 and was the first Chief International Science Envoy in the Foreign, Commonwealth, and Development Office until 2021. She was elected President of the UK Science Council in 2021.
Money for the Moon - The UK Space Agency announced that it was making over £50 million in funding available to companies looking to develop communication and navigation services for missions to the Moon. The funding is part of ESA's Moonlight programme which is expected to begin launching a constellation of communications satellites into orbit around the Moon by 2028. According to the Minister of State for the UK Department of Science, Technology, and Innovation George Freeman the funding will "help UK companies provide satellite services for the fast-emerging lunar communications economy for years to come, deepening our international collaborations through ESA, kick-starting the lunar economy and inspiring a new generation of scientists and explorers."
An eye over Africa - Airbus Defence and Space won a contract from Angola to build the country's Angeo-1 Earth observation satellite. The satellite will utilize the Airbus S250 optical satellite platform. According to Airbus, once the satellite is launched, it will be the most advanced in its class active in the region.
It's like a blind date with a contract - Airbus signed a contract with French space situational awareness startup Share My Space to assess the reliability of the company's collision alert data and overall risk management practices. According to Airbus, the project is part of an ongoing initiative to "explore new technologies, new solutions, new players, and proposals" relating to the safe operations of satellites in orbit and the mitigation of space debris.
Newts now on sale - UK-based launch and in-space logistics startup SmallSpark Space Systems has announced that its NEWT-A2 bi-propellant thruster is now available for pre-order. The thruster can be ordered in 50 N or 200 N configurations. According to a SmallSpark LinkedIn post, the thrusters will be available from late 2023. However, the company's website states that an in-orbit demonstration is expected in 2024 and that the thrusters will be available in 2024. The development of the NEWT-A2 thruster was backed by the UK Space Agency and is described by the company as the "world's simplest bi-propellant thruster."
Sponsor the next issue of the Europe in Space newsletter - With over 1,600 subscribers and a readership that includes CEOs, investors, decision-makers, and influential members of the media, the Europe in Space newsletter is an ideal platform to reach your audience. To get your company in front of the eyeballs that matter, send an email to andrewp@europeanspaceflight.com
Not yet a subscriber?
Fascinating analysis, but your take on AG having received little or none of the AE heritage seems to have little backing in your own research, even though it must be hard to gather any evidence for such a claim. ATM it reads more like conspiracy than anything else to be honest
Would be interesting to have you compare ArianeGroup's confusing claims of heritage to those of Boeing's, and other American primes. Is ArianeGroup following a trend or just being exceptionally deceptive?
No posts
Ready for more?