Europe's Ariane 5 rocket to make its final launch this evening [Updated]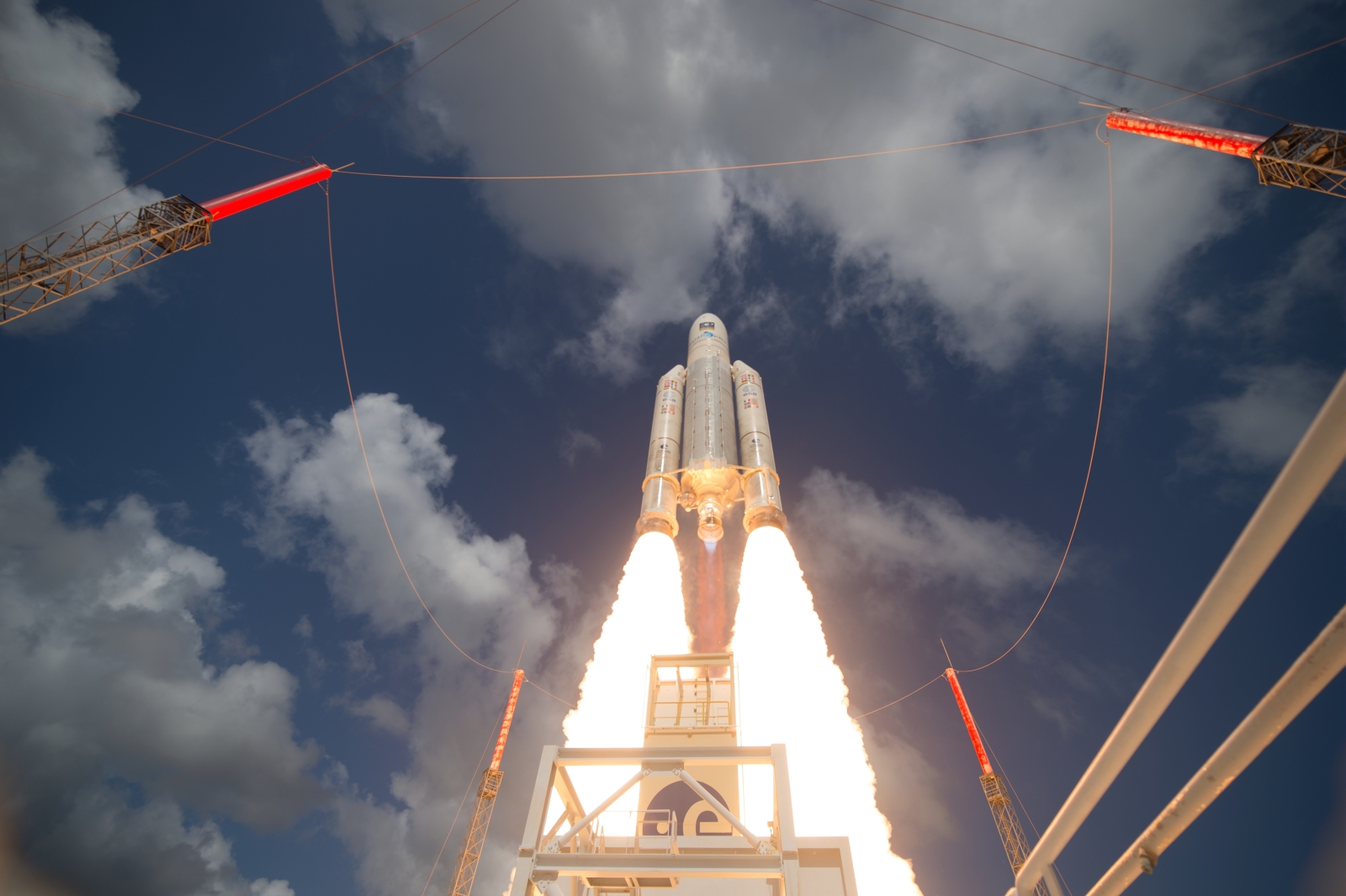 Front page layout
Site theme
Eric Berger - Jul 5, 2023 1:50 pm UTC
Wednesday update: Unfavorable upper-level winds scrubbed a launch attempt of the European Space Agency's Ariane 5 rocket on Tuesday from the European spaceport in French Guiana.
However, Arianespace said Wednesday that the forecast for today is marginally better, and so the rocket is being prepared for liftoff at 5:30 pm ET (21:30 UTC). This will be the final launch for the Ariane 5 rocket, which flew for nearly as long as NASA's Space Shuttle. It will leave Europe without guaranteed access to space for at least the next year.
Original post: The Ariane 5 rocket has had a long run, with nearly three decades of service launching satellites and spacecraft. Over that time, the iconic rocket, with a liquid hydrogen-fueled core stage and solid rocket boosters, has come to symbolize Europe's guaranteed access to space.
But now, the road is ending for the Ariane 5. As soon as Tuesday evening, the final Ariane 5 rocket will lift off from Kourou, French Guiana, carrying a French military communications satellite and a German communications satellite to geostationary transfer orbit. A 90-minute launch window opens at 5:30 pm ET (21:30 UTC). The launch will be webcast on ESA TV.
And after this? Europe's space agency faces some difficult questions.
The Ariane 5 rocket made its debut in June 1996 with a launch failure, and its second launch a year later was also a partial failure. But after that, the rocket has had a commendable record of success across 116 total launch attempts. For most of its history, the rocket was a true workhorse, launching dozens of commercial satellites into geostationary space and ensuring that the nations of Europe could get their national security payloads into orbit.
The rocket has also lifted a number of important space science missions, including the Rosetta, Herschel, Planck, BepiColombo, and JUICE spacecraft. Perhaps the rocket's most notable launch came in December 2021, when it lofted the James Webb Space Telescope for NASA into a very precise orbit.
Because Webb did not need to expend any onboard fuel to correct its orbit, NASA was able to double its estimated lifetime for the mission. A NASA systems engineer, Mike Menzel, said an agency analysis found that Webb has enough propellant on board for 20 years of life, up from its original estimate of 10 years.
That is the sweet part of the Ariane 5 rocket's story. The bitter part comes as Europe looks to the future. Nearly a decade ago, the continent's space leaders recognized that the Ariane 5 was not especially price-competitive with newer rockets, particularly SpaceX's Falcon 9 booster. So they decided to develop a next-generation booster, the Ariane 6, to be more price-competitive.
This new rocket was largely a modernization of the Ariane 5, including an updated design for the solid rocket booster and its Vulcain main engine. European space officials said the Ariane 6 rocket would be ready for its debut flight in 2020.
Unfortunately, as of July 2023, it's clear that the Ariane 6 rocket will not fly before next year and probably not until at least the summer of 2024. Recently, at the Paris Air Show, officials from Arianespace and other European entities declined to provide a new estimated debut launch date. There remains a lot of work to be done, including an additional hot fire test of the rocket's upper stage, flight software qualification tests, and assembly of the rocket on the launch pad.
These delays are not good for Europe's launch industry. Recall, the continent developed the Ariane 6 rocket to be competitive with the Falcon 9. Now, due to its ongoing delays, the European Space Agency is having to move some of its most valuable missions onto the SpaceX rocket.
On Saturday, for example, Europe launched its high-value Euclid space telescope on the Falcon 9 rocket because an operational Ariane 6 rocket would not be available for the mission until at least 2025.
Delays in the Ariane 6 have also prompted the European Space Agency to agree to launch its Hera asteroid probe on a Falcon 9 from Cape Canaveral in 2024. And the space agency's director general, Josef Aschbacher, said an Earth science satellite called EarthCARE will also have to launch on a SpaceX Falcon 9 due to problems with its European Vega C rocket.
In some recent comments, Aschbacher acknowledged that Europe has fallen significantly behind SpaceX in launch capabilities.
SpaceX has undeniably changed the launcher market paradigm as we know it, he wrote in May. With the dependable reliability of Falcon 9 and the captivating prospects of Starship, SpaceX continues to totally redefine the world's access to space, pushing the boundaries of possibility as they go along. Once successful, Starship will carry payloads of around 100 tonnes into Low Earth Orbit while reducing the launch cost by a factor of 10. Falcon 9 aims to launch 100 times in 2023. Europe, on the other hand, finds itself today in an acute launcher crisis.
So as the final Ariane 5 takes flight, Europe is sailing into uncertain seas until the Ariane 6 can finally get going.
Join the Ars Orbital Transmission mailing list to get weekly updates delivered to your inbox. Sign me up →
CNMN Collection
WIRED Media Group
© 2023 Condé Nast. All rights reserved. Use of and/or registration on any portion of this site constitutes acceptance of our User Agreement (updated 1/1/20) and Privacy Policy and Cookie Statement (updated 1/1/20) and Ars Technica Addendum (effective 8/21/2018). Ars may earn compensation on sales from links on this site. Read our affiliate link policy.
Your California Privacy Rights |
Do Not Sell My Personal Information
The material on this site may not be reproduced, distributed, transmitted, cached or otherwise used, except with the prior written permission of Condé Nast.
Ad Choices