Falcon 9 puts on a show in the Californian skies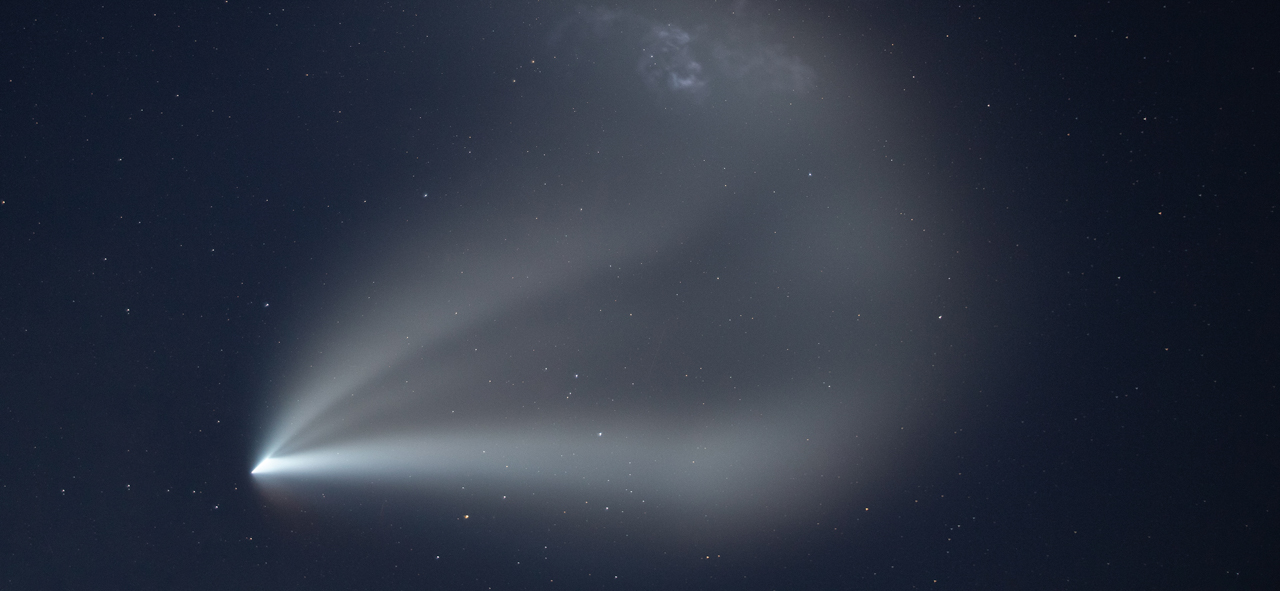 Last night at 9:09 p.m. PT (04:09 UTC), SpaceX successfully launched 15 V2 mini Starlink satellites to low Earth orbit from Space Launch Complex 4 East at Vandenberg Space Force Base, California.
Following a last-second aborted launch attempt the previous night, SpaceX teams performed checkouts of the Falcon 9 and determined another attempt to launch the next-gen satellites was good to go. During the previous attempt, the launch was held early in the countdown due to a "perceived leak" in the second stage, then eventually, the automated abort at T-minus 5 seconds.
Liftoff! pic.twitter.com/CzetVZFGbv
— SpaceX (@SpaceX) July 20, 2023
The views on the webcast started out with nothing but fog, SpaceX even went as far as to add an outline of the Falcon 9 to the screen so viewers could visualize the rocket through the thick Vandenberg fog. The countdown proceeded normally, and the Falcon 9 took off to the South, parallelling the California coastline.
Following a two-and-a-half-minute burn of the Falcon 9 first stage, the engines shut down, and the first and second stages separated. Falcon 9 booster 1071 then landed on the droneship 'Of Course I Still Love You' nine-and-a-half-minutes after launch, marking its 10th successful mission.
Falcon 9's first stage has landed on the Of Course I Still Love You droneship pic.twitter.com/cIwzaZC6VU
— SpaceX (@SpaceX) July 20, 2023
While the first stage was returning to Earth, the second stage was climbing to the proper altitude, which brought it back into the sunlight and lit up the exhaust plume creating the 'twilight effect' which prompted people in Southern California and even as far as Arizona to look up and watch as the rocket soared through the skies.
The 15 V2 mini Starlinks then separated approximately 15 minutes after launch. That now brings the total of Starlink satellites launched to 4,837.
These satellites will now go through checkouts as they rise to their operational orbits.
More photos from last night's Falcon 9 launch of 15 @Starlink satellites to orbit pic.twitter.com/qBIOcGtn9n
— SpaceX (@SpaceX) July 20, 2023
Questions or comments? Shoot me an email at [email protected], or Tweet me @RDAnglePhoto.
Following the delayed launch of the most recent Falcon Heavy launch, NASA and SpaceX...
A recent sighting of the Tesla Cybertruck at Palo Alto, California, has attracted the...
A new leaked video shows several Tesla Cybertrucks lined up inside the plant at...
The Tesla Semi is perhaps the most groundbreaking vehicle in the commercial industry in...
The quest to break the fastest quarter-mile time for the Tesla Model S Plaid...
Copyright © TESLARATI. All rights reserved.