In defence of Ariane 6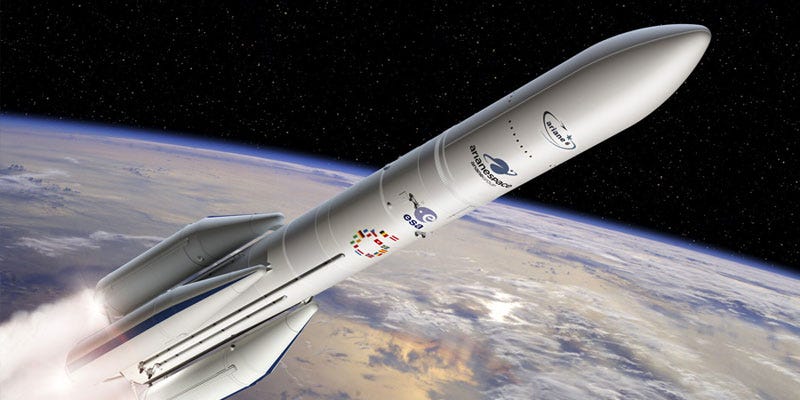 Issue 54 Subscribers 1,921.
To my 44 new subscribers, enjoy your first issue and, as always, if you have any comments, suggestions, or tips, you can reply to this email.
In defence of Ariane 6
I am genuinely irritated that I must be the voice of reason on this issue. I have been quite open about my concerns with Ariane 6 and the way its development has been managed by ArianeGroup - it's to the point where I appear to have been blacklisted by the company's communications team. But a recent Politico article was so egregious in its manipulation of the facts that it necessitated me coming to the aid of something that I don't necessarily support. Ariane 6 is not a perfect solution, the programme has had its bumps, I do wish someone would take responsibility for the delays, and I would like there to be more transparency about where things went wrong. That being said, I will not abide by the sheer nonsense written in this 569-word article, a length which is, of course, more than adequate to break down what is an extremely complicated issue.
A hit job
Let's start with the headline of the piece: EU turn to Elon Musk to replace stalled French rocket. Firstly, why do these publications always insist on utilizing Elon Musk as a synonym for SpaceX? Scratch that, I know why. It's for the clickbait factor, as is the rest of this headline. What makes this more infuriating is that SpaceX isn't the only launch services provider being considered by the European Commission with United Launch Alliance also on the list. Forcing Musk into this title is just so tortured. Secondly, it's not a French rocket and to refer to it as a French rocket is a pretty clear indication that the author does not understand how the rocket was envisioned, designed, and is being built and tested. Next up, the EU is NOT looking to replace Ariane 6. What's interesting about this inaccuracy is that a single email to the European Commission was enough to confirm that this is a falsehood. What's more, Politico clearly did approach the European Commission about the story because they included a quote from Commission spokesperson Sonya Gospodinova. So, either the authors did not ask questions pertinent to the issue, or facts garnered from the interview were omitted in an effort to reinforce a conclusion that was decided upon before the authors sought clarification. Finally, Ariane 6 is not stalled. Delayed, sure. Stalled, however, suggests that progress has ceased altogether. This is, of course, not true. And this is all just for the 10-word headline.
I'll be honest, prior to this article I had never actually read any Politico content. I now wish that I had never started. This article is riddled with all the tendencies of modern click-ready journalism that is focused more on getting views and clicks and shares than it is in telling the truth.
The omitted realities
I don't have a leaker ready to slip a copy of this draft request nor, unsurprisingly, was the European Commission communication team all that interested in sharing the document with me. As a result, I have to rely on the very poor retelling from Politico and comments that I have personally received from the European Commission following a lengthy request for information.
The most pertinent response from the European Commission spokesperson was that the Commission continues to rely on Ariane vehicles for launching its Galileo satellites. In light of the most recent Ariane 6 maiden flight delay, however, the European Commission began looking at the feasibility of launching Galileo satellites with alternative launch service providers as part of a risk management exercise. However, the Commission does not see Galileo services being affected in the short or medium term. This means that if Ariane 6 is introduced as planned in late 2023 or early 2024, there will be no need for an alternative provider.
The other important detail omitted or otherwise uncollected from the Politico piece is that there is no guarantee that Galileo satellites could even be launched aboard a vehicle from a US launch services provider. According to the Commission spokesperson, the feasibility work being done regarding this matter entails "assessing a series of elements, including the security adequateness of possible launch sites and the establishment of a security framework with US security authorities." So, the Commission would have to get member states to agree, establish the necessary security framework, negotiate a contract with SpaceX, and secure a launch date all within the next year.
This is very much an exercise to examine possible avenues for a worst-case scenario. If, for instance, the maiden flight of Ariane 6 fails and a redesign forces a first operational flight into 2025 or 2026, then the Commission would be forced to find an alternative regardless of how long the implementation took. This is, as I have said, a worst-case scenario.
Ariane 6 struggles are not unique
There is this belief that Ariane 6 is a political widowmaker that has no analog and is uniquely behind the curve on key technological advancements like reusability. It's not.
The issue is that SpaceX is seen as the only benchmark for launch service providers. It is the belief of many that if a vehicle cannot match the once-in-a-generation success of Falcon 9, then it is a failure better left not pursued. And it is hard to argue with the success of SpaceX. The company has secured a massive share of the market and is light years ahead of anyone else when it comes to cost and the implementation of reusability. However, in the same Politico article that the authors chastise Europe for its "stalled" rocket programme, it waits until the second-last paragraph to admit that Vulcan is yet to make a maiden flight, stating that "ULA only plans its first Vulcan mission in May." What's worse is that the author completely omits the fact that ULA recently had a significant failure of a Vulcan second stage during testing which, in my mind at least, completely precludes a May debut. The Vulcan has, in fact, been in development for just as long as Ariane 6. Although Vulcan will be more capable, Ariane 6 will be more affordable with flights likely to start at around €75 million for Ariane 62 missions. Although it should be noted that affordability is based here on a cost-per-mission basis and not a cost-per-kg basis, which may favour Vulcan. And let's not even get started on SLS and the eye-watering numbers involved with every aspect of that vehicle from development costs to the cost per launch. Then there's Russia's Angara A5 and Japan's H3 which one would be hard-pressed to argue are in a better place than Ariane 6 in terms of development progress and technological advancements.
Ariane 6's inability to be reused is the element of the vehicle most often criticized. However, apart from the Falcon 9, what other medium to heavy-lift launch vehicle is currently being reused? None of them. There are a few in development with Neutron, New Glenn, and Terran R making up the majority of that list. Again, though, claiming that Ariane 6 is somehow unique in its approach and position is just not true.
Do I wish that Europe had, in 2014 when the development of Ariane 6 began, seen the early signs of the industry's shift toward reusability? I most certainly do. Let's be clear, though, the only company that did was SpaceX. And that's why everyone, including ArianeGroup and Europe, is playing catch up.
Conclusion
Last week's Ariane 6 hit job from Politico isn't the first from the Arlington-based publication. An October 2022 article from one of the two authors of this most recent piece was entitled "Ariane boss insists Europe's new rocket can compete with Musk's SpaceX". What's incredible about this is that not once does the author actually quote the then-CEO of ArianeGroup Hubert Roussel insisting that Ariane 6 could compete with the Falcon 9. The closest he gets is paraphrasing the then-CEO stating "Roussel insists Ariane 6 already has 29 launches booked including a major deal with e-commerce giant Amazon." I think it's interesting that he doesn't quote Roussel directly to get the CEO "insisting". This makes me think that despite the author's best efforts, Roussel, who I have heard deflect this question many times, did no such thing during questioning. Here's the thing, stating that Ariane 6 has secured sufficient market share to make it economically viable in the short to medium term is not the same thing as insisting Ariane 6 can compete on a level playing field with Falcon 9.
Now more than ever, Europe and Europeans are demanding sovereign capabilities in space. This fact alone all but guarantees a place for Ariane 6. The rocket won't launch 100 times a year like Falcon 9 - I don't think that ArianeGroup would have any way of producing that many Ariane 6 vehicles a year anyway. But it will launch enough to ensure a positive balance sheet for ArianeGroup and sovereign access to space for Europe for the next decade. That's really all Ariane 6 needs to achieve to be successful in the eyes of the European Commission and ESA. Do I have a problem with that? Most definitely! But I am also a realist. Europe and its institutions are difficult to convince and even more difficult to redirect. A fresh look at the continent's launch industry is inevitable, but it won't be rushed.
It is easy to be despondent, and I often find myself angry and resentful at the state of the European launch crisis. In my darkest hours, however, I look to the bright future of Europe. I look to the charismatic new leadership of ESA under Josef Aschbacher, a man who has almost single-handedly reshaped the agency's image and given it a hopeful new voice. I look to the ambitious and pioneering NewSpace industry bubbling with talent from Stanislas Maximin in France to Daniel Metzler in Germany. I look to the incredible revival in interest in human spaceflight with the eager faces of the latest ESA astronaut class exemplifying bold new ambitions. I look at all of that and realize that the best is still to come. And that might not be Ariane 6. The vehicle is, however, a bridge to that brighter future.
Avio leadership has questions to answer - Officials from Italy's Partito Democratico (PD) have raised questions to the country's Chamber of Deputies to the Prime Minister, Giorgia Meloni, and to the Minister of Enterprise, Adolfo Urso regarding Avio. Public filings show that PD deputy Andrea Orlando was the primary signatory of the submission dated 20 April 2022 which included three co-signatories. The questions outlined within the submission directly reference the Europe in Space "Avio under the microscope" investigation featured in issue 49 of our Europe in Space newsletter. In addition to the causes behind a pair of Vega failures, topics of the PD deputy's questioning included Avio share buybacks, CEO compensation, and the conflict of interest arising from the CEO's founding and major ownership of In Orbit S.p.A., which is a major Avio shareholder.
Pocket money for group activities - The UK Space Agency announced that it would be making £20 million available for international space partnerships. The investment is intended to harness the UK's national strength, support new space capabilities, and catalyze investment. An initial £2 million tranche of the funding will be made available from the International Bilateral Fund with further funding to be made available over the next two years.
European astronaut to fly commercial - ESA and the Swedish National Space Agency signed an agreement to send an agency astronaut to the International Space Station aboard a commercially managed Crew Dragon Axiom Space flight. According to a press release, the intent is to send an ESA astronaut to conduct an ambitious 10-day scientific and educational programme. ESA and the Swedish National Space Agency are expected to host a press event at a later date to reveal additional details about the mission and the astronaut assignment.
More aerospike engines please - Spanish propulsion startup Pangea Aerospace has announced that it has entered into a partnership with US-based launch startup Tehiru to supply its 300 kN ARCOS engine for the first stage of the launch startup's reusable air-launched rocket. According to a press release, the partnership "could mean revenues of up to €50M for Pangea Aerospace in the next 5 years." It's not clear if the agreement includes any upfront payment. It's also not clear if Tehiru has raised any significant funding to date.
Robot space spider to touch down on US soil - Swiss OTV company ClearSpace has set up a new subsidiary in the US to bring its core technologies to the world's largest space economy. ClearSpace is also expanding its service to offer not only debris removal and life extension, but also in-space transportation, inspection, assembly, manufacturing, repair, and recycling. ClearSpace is currently working on its first debris removal mission that will see it launch a vehicle with four articulating legs that will capture the target and dispose of it.
More money for Avio - Italian rocket maker Avio announced that it had received €90 million in new orders from MBDA Italy for boosters that will be used aboard Aster 30 surface-to-air missiles. The slate of new orders comes after MBDA awarded Avio €40 million in contracts in August 2022. One of those contracts was intended to allow Avio to increase the production of boosters for the Aster 30 missile system for "a European and NATO member state."
Another European company targets US customers - Danish satellite manufacturer GomSpace signed a Memorandum of Understanding with US-based tech company Science Applications International Corp (SAIC) to provide government and commercial customers in the Americas with new space-based mission capabilities leveraging CubeSat's and SmallSats. The agreement will see SAIC become the exclusive US integrator of GomSpace satellites and licensed product distributor, services reseller, and space vehicle and mission integrator for GomSpace's US government customers.
Open sesame - German launch startup Rocket Factory Augsburg announced that it has successfully completed testing of its in-house developed fairing for its RFA ONE vehicle. The next major milestone on the company's list is an integrated second stage hot fire test which RFA has been preparing for over the last few months. A maiden flight of RFA ONE is slated for late 2023.
I stopped at the second paragraph.
ULA is not/cannot be (at least I hope that you're wrong otherwise the European commission is completely clueless) under consideration.
ULA in an even worst position than Ariane Space. All 29 Atlas V's and the 2 Delta IV Heavies left are already sold (DOD, Starliner, Kupier and one for Via Sat). The first 40+ launches of their next rocket Vulcan Centaur are already booked(Astrobotic, NASA, DOD and Kupier), to make matters worst the BE-4 engines they use are super late AND they just had an incident with their upper stage testing. So no spots until well into 2025 at best, 2026 in my personal opinion... By then one would hope that Ariane 6 is flying.
SpaceX is absolutely the only choice (maybe ISRO, but 1 or 2 launches at best in the next 2 to 3 years given their launch cadence)
Thanks for your article. I find your articles are the most insightful on European spaceflight. A major question not being addressed is if ArianeSpace can get any of the commercial launch market at the stated prices of €75 million($80 million) for the Ariane 62 and €115 million($125 million) for the Ariane 64. The ESA hope is at least the $80 million Ariane 62 will at least be competitive to the current $67 million price of the Falcon 9 as new.
But in fact this is illusory. The great majority of the Falcon 9 launches are used at the $40 million price. So the announced Ariane prices are 2 and 3 times those the actual commonly used price of the Falcon 9.
It's very unlikely commercial space companies will be willing to pay these prices. Sure governmental agencies could buy them at those prices since they are used to launch companies charging them twice what commercial satellite companies are charged. But that's not sufficient for a multi-billion dollar launcher development. The likely result is ArianeSpace will be driven to the brink of bankruptcy just like ULA was.
Important also is ArianeSpace has admitted they won't field a reusable launcher until the 2030's, making it even harder for them to survive that length of time using expendables.
But there is a solution! When reading about JAXA upgrading the H-IIa launcher to the H-IIb by adding a second cryogenic engine to the first stage, I was surprised it was not some billion dollar development but only ~$200 million(27 billion yen). Then a key question to ask of anyone at ArianeSpace, ESA, CNES, or DLR, is how much would it cost to add a second Vulcain to the Ariane 5 or 6 core?
Because of the similarity in size to the H-IIa/b it likely would also be in the $200 million range, and actually likely even less since there were multiple systems upgraded on the H-IIa that amounted to that $200 million charge, not just adding a core engine.
But if you run the numbers such a two Vulcain no SRB Ariane could get the same payload as the current two SRB version of the Ariane 62. But the price would be much less. The reason is those newly developed SRB's are so expensive.
So could you put these uncomfortable questions to those in leadership in European space: How much would be the development cost of just adding another Vulcain to the Ariane 5 or 6? How much does the price of the two new SRB's add to the price of the Ariane? How much would the price for the two Vulcain Ariane be without SRB's?
Robert Clark
No posts
Ready for more?