New ArianeGroup CEO Wishlist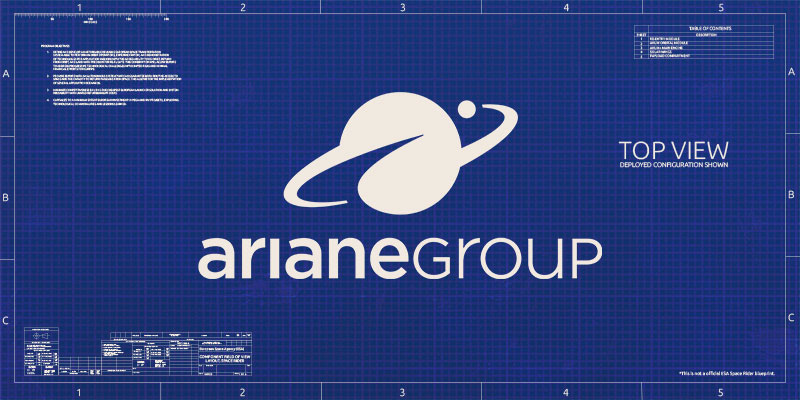 Issue 51. Subscribers 1,797.
I do apologise that this issue is a day late. Monday was a day filled with technical difficulties that had to be dealt with. This Tuesday release is, hopefully, a once-off. To my 40 new subscribers, enjoy your first issue and, as always, if you have any comments, suggestions, or tips, please comment below or reply to this email.
Earlier this morning, ArianeGroup officially announced that André-Hubert Roussel has stepped down as CEO of ArianeGroup. The news comes after French news outlet La Tribune broke the story late last week. Although reporting has strongly suggested that delays in the development of Ariane 6 were the reasons for Roussel's departure, ArianeGroup did not give any clarity on why the change in leadership had been initiated and requests for comment from me went unanswered.
I don't think it comes as a surprise to anyone that I had not been the biggest fan of Roussel's tenure at ArianeGroup. His divisive remarks regarding European launch startups for me always stood in contradiction to his calls on European industry to unite during a period that has been described by ESA director general Josef Aschbacher as a "crisis."
Roussel has talked about the dangers of a dispersion of resources when funding, contracts, and attention are given to launch startups. In Europe, there is a dispersion of resources and certain nationalism that appears almost everywhere, especially in Germany and Italy, which have always been historical partners of Ariane, he said during an interview.
During the same interview, he explained that in countries like Germany and Italy, there is a strong tendency towards duplication, which is a nice way of saying that ArianeGroup isn't big on the idea of a competitive market. Who needs competitive bidding when you can have a monopoly?
For Roussel, nationalism is only good when it is being used to prop up the monopoly that is ArianeGroup. During a recent interview with Les Echos, Roussel called on Europe to mobilize behind ArianeGroup for what comes after Ariane 6.
This hypocrisy that has been fostered from the very top of ArianeGroup is filtered down to a management team that appears to feel unencumbered by the responsibilities attached to utilising public funds to develop a privately-held product. This culture did, however, originate long before Roussel's tenure.
For that, we have to go back to 2014 when the founding of ArianeGroup, or as it was to be first known, Airbus Safran Launchers, was being planned. At the time, Safran and Airbus wanted to "privatise" the CNES design authority and the Arianespace launch company, which CNES owned 34.6% of at the time. In June 2014, Arianespace CEO Stéphane Israel stated plainly in an interview with La Tribue that industry wants to recover the design authority, the institutions being more in the role of certification authority.
Airbus and Safran were ultimately successful in their bid to privatise the Ariane launcher programme seizing the intellectual property that had been developed with the backing of taxpayers. Unfortunately, then president of France, François Hollande had little interest in protecting this asset, stating at the time that it was a major step towards consolidation of the European space secure, generator of employment, carrier of the future, and element of sovereignty. I'll give him this much, his remarks were rather poetic. However, today we know that consolidation of the launch market did none of those things. In fact, it may have done the very opposite.
With this background, it's easy to see how the rot in AraineGroup really does penetrate its foundations. The Ariane 6 delays and the company's inability to take responsibility for these delays are merely a symptom that Roussel was likely asked to mitigate and manage when he took over from the retiring Alain Charmeau in 2018. There is a small part of me, a very small part mind you since there were decisions made under his leadership that exacerbated the problem, that feels sorry for Roussel and the position he was put in.
The new CEO
ArianeGroup does already have a new CEO in Safran Electronics and Defense CEO and ArianeGroup board member Martin Sion. This is an interesting choice and one that appears to indicate that the company would like a business-as-usual approach to the change in leadership.
Sion is, from all appearances, a company man. He has worked at ArianeGroup coowner Safran for more than 31 years and has held positions in multiple divisions of the company, including many with ties to Ariane launch vehicles and propulsion. Sion has also been on the board of ArianeGroup since April 2020. Sion has the experience and the knowledge to excel in the position and I do wish him all the success in the world. I do, however, think that he is unlikely to chart a bold new course for ArianeGroup.
As a member of the company's board, he was likely part of sculpting or, at the very least, approving of the direction already charted for ArianeGroup in the coming decades. The company will likely leverage work being done on Themis, Prometheus, and MaiaSpace to develop a range of methalox-powered partially reusable launch vehicles. It also likely hopes that its reusable Susie spacecraft concept will play a large role in the company's future. ArianeGroup will, of course, look to lean heavily on public funding to develop this next-generation launch system.
What if we could write an alternative reality, though? If electing a new CEO of ArianeGroup was a democratic exercise, who would we want on the ticket? More specifically, for the purposes of this article at least, who would I want on the ticket? Well, here are a few options that I would most certainly celebrate getting the top job at ArianeGroup.
The Contenders
I would like to say upfront that I think this position will have a significant impact on the future of the European space industry. It's not something I particularly enjoy admitting, but Ariane has held a monopoly on large Europe launch for so long and there isn't a single contender in sight that is preparing to compete for the position. This could be achieved with some very aggressive public funding of launch startups currently developing small vehicles, but this would require Europe to accept much more risk than it ever has before. As a result, I just don't see that happening, certainly not in the short to medium term.
The following are candidates that I would like to see in the position. The chances that any of them are actually on a list at ArianeGroup have varying degrees of likelihood depending on the candidate. Without further preamble, here's the list.
Jerome Vila
This is, in my opinion, the most realistic candidate on this list. Vila is currently the deputy CEO of MaiaSpace and has had an interesting role in shaping the future of the European launch industry.
Vila was the project manager at CNES for the development of the Ariane 5 ECA, the current and by far and away the most utilised variant of the Ariane 5 launch vehicle. He then moved over to ESA serving as the technical officer for the Araine 5 midlife evolution programe. He returned to CNES in 2013, serving as the head of prospective, innovation, and future projects within the agency's Space Launchers Directorate before becoming the agency's assistant director for research and future programes. Prior to assuming his role at MaiaSpace, Vila was the founder and head of ArianeWorks, a skunkworks division of ArianeGroup that would give rise to Themis, Prometheus, and MaiaSpace, three projects that will define the future of ArianeGroup.
He has the experience and the agency connections and has already played a huge role in defining the future of ArianeGroup. Who better to assume the role of CEO than Vila? But would he take the job? It's definitely possible. It could be that he is keen to see his journey at MaiaSpace through to at least a maiden flight, which would put him out of contention. I do, however, think that it would be a difficult opportunity to turn down.
Hélène Huby
As the co-founder and CEO of The Exploration Company, Huby has already shown a willingness to redefine the European space industry. However, this is only the most recent of Huby's exploits.
Huby has made a career out of defining the strategic direction of the European space industry. In 2013, she became the Head of Innovation at Airbus Defence and Space. She then spent two years as a Program Director at ArianeGroup before returning to Airbus as the VP of space strategy and then the VP of the European Service Module. In August 2021, she left Airbus to start The Exploration Company to create a multipurpose reusable spacecraft designed, developed, and built in Europe.
Europe and, by extension, ArianeGroup, needs, more than ever, a clear strategic path to solving some of its most complicated problems. Huby's focus on developing a reusable launch vehicle that could be adapted to a crewed vehicle a year before ArianeGroup and two years before ESA quite clearly demonstrates her aptitude for this high-level strategic positioning. But, would she take the job?
As the co-founder and CEO, Huby is undoubtedly invested in The Exploration Company. And I do think the company could be a key element of Europe's push for an independent crewed launch capability. As a result, I think it would be a hard ask for her to leave the company she started and has seen flourish under her leadership. However, I think she would also relish the opportunity to play an even bigger role in shaping the future of the European space industry.
Hans Koenigsmann
Time for a not-so-serious option. I did say this was a wishlist. Hans Koenigsmann spent over 20 years at SpaceX and was involved in the development and industrialisation of what is today the most dominant launch vehicle in the global launch market.
Koenigsmann was born in Germany and did his Ph.D. in Aerospace Engineering at the University of Bremen. In 2002, he became just the fourth technical employee of SpaceX as the VP of Avionics. According to his LinkedIn profile, Koenigsmann retained his role of VP of Avionics for just over nine years before taking up the role of VP of build and flight reliability for approximately nine more years. He would then do a short stint as a senior advisor at SpaceX before retiring from the company. His LinkedIn profile currently has his employment status as semi-retired.
So, would ArianeGroup even be able to secure the services of Koenigsmann? Likely not. Koeingsmann is, as I have stated, semi-retired as of 2021 and lives in California. However, according to his LinkedIn profile, he does serve as a member of the supervisory board for OHB which does, of course, have ties to ArianeGroup. It would definitely be a tall ask for the ArianeGroup recruitment team but having Koeingsmann at the head of the company beginning to prepare for the next generation of European launch vehicles would be an exciting proposition. Sure, ITAR would likely bar him from taking up the role, but how much of an international incident could his appointment possibly cause?
Conclusion
Roussel will likely leave ArianeGroup unfulfilled. When he assumed the role of CEO in January 2019, he was tasked with pushing Araine 6 through to a then-scheduled debut in the fourth quarter of 2020. Less than six months after becoming CEO of ArianeGroup it was announced that the vehicle's maiden flight had slipped to the second half of 2021. This was obviously followed by several more delays that have now pushed out the maiden flight to, if you believe the La Tribune article, as late as the first quarter of 2024. He will, as a result, depart without achieving what was his core mission. This is not an enviable position to have to be in.
I do wish Roussel all the best in his future endeavours and hope that he will truly become the champion of the European launch industry that he so often claimed to be.
Sponsor a Europe in Space newsletter issue - The Europe in space newsletter has quickly gone from strength to strength and is now read by CEOs, decision-makers, and influential members of the media. If becoming the next company to sponsor an issue sounds like something you would be interested in, send an email to [email protected]
One launch startup to rule them all - German launch startup Isar Aerospace announced that it had secured €155 million in Series C Funding. The launch startup has now raised more than €300 million since its founding in 2018, more than twice that of any other launch startup. Isar will utilize the new funding to push ahead with work toward the maiden flight of Spectrum. It will also be used to ramp up production and build on the company's automated production capabilities. I got a chance to speak to Isar CEO Daniel Metzler about the company's progress towards a maiden flight of Spectrum.
Trouble in Italy? - The Italian Space Agency recently announced that it had awarded a €55 million development contract to Avio to develop a green liquid propellant engine that would be used for OTV applications. This contract was awarded on top of two others the company has received which netted Avio another €285.3 million. All three contracts were awarded under Italy's covid recovery fund, which was an element of the European Union's NextGenerationEU economic package. The European Commission last week, according to reporting from Reuters, opted to freeze the €19 billion tranche of NextGenerationEU funds to Italy, requesting clarification over Rome's efforts to meet the targets and milestones needed to unlock the money. It's unclear how this decision will impact the contracts awarded to Avio.
We have a plan - ESA Director of Space Transportation Daniel Neuenschwander outlined the short-term milestones towards the inaugural flight of Ariane 6. The milestones that didn't come with an expected timeframe are a long-duration hot fire test of the Vinci engine, functional verifications to secure the wet rehearsal, and the firing test phase. A dry run, general rehearsal, and wet rehearsal are all expected to take place in June. The long-duration hot fire test of the Vulcain 2.1 engine is expected in July. According to Neuenschwander, the lower and upper propulsion modules that will be utilised aboard the maiden flight of Ariane 6 are being integrated at ArianeGroup's Bremen and Les Mureaux facilities respectively.
A free ride into orbit - The Exploration Company, in cooperation with ESA, has launched the ESA Payload Masters competition. Two winners will be selected to conduct testing of technology and/or experiments aboard the company's second test flight. The payloads will be launched aboard The Exploration Company's Mission Possible flight in 2024. Mission Possible is the company's second test flight with the first, the Bikini Demonstrator, set to be launched aboard the first Ariane 6 flight. This second test article will be larger than the first but not yet as large as the full-scale Nyx spacecraft.
Up, up and away! - A pair of REXUS sounding rockets were launched from the Esrange Space Center in Sweden. REXUS 30 was launched on March 29 and REXUS 29 on April 4. Together, the rockets carried a total of nine experiments. All payloads and free–falling units from the B2D2 and DAEDALUS2 teams were recovered successfully.
Thales gets the nod - ESA awarded a pair of contracts to Thales Alenia Space to supply the first batch of six small satellites with synthetic aperture radars and one satellite based on optical technology for the Italian IRIDE Earth observation constellation. The contract for the six SAR satellites is worth €112 million and includes an option on a second group of four satellites, worth €75 million. The optical satellite contract is worth €30 million and includes an option for an additional satellite for €19 million.
More money, more jobs - The UK Space Agency announced that new figures have shown that the UK space sector grew by almost £1 billion in 2021 with a total value of £17.5 billion. According to the report, the sector now employs 48,800 people and supports an estimated 26,800 jobs across the wider supply chain.
Not a bad start to the year - Scottish smallsat component and solutions provider AAC Clyde Space announced that it had received SEK 20.1 million (approximately €1.79 million) in orders from several customers. The orders allowed AAC Clyde Space to push its Q1 2023 earnings to SEK 80.5 million (approximately €7.14 million). The announcement came a day after the company revealed that it had strengthened its short-term financing by expanding its existing overdraft bank facility from SEK 5 million to SEK 30 million (approximately €7.14 million). The extension will allow the company to deliver on its expanding order backlog and manage larger business volumes.
The milestones that didn't come with an expected timeframe are a long-duration hot fire test of the Vinci engine
To think that this thing has been in design since at least 2008, and was proposed as the Orion engine back in 2012! (And actually in the running for the Omega Upper stage in 2017)
https://spacenews.com/esa-launcher-program-shifts-focus-away-reusables/
https://spacenews.com/working-group-backs-european-prop-module-orion-capsule/
https://aviationweek.com/defense-space/orbital-atk-pick-upper-stage-engine-ngl
Solely working on your descriptions, I voted for Vila over Huby, because the EUS (like everything SLS) experienced some delays too.
But I fear it does not really matter who leads ArianeGroup as long as the incentives do not change.
The EU did not care as long as there were jobs, and from the industry side the owners probably knew through Airbus that there would be a lull in GEOsat production.
From the ESA side there have been no penalties for the delays, nor for ending Ariane 5 without the replacement. If anything, they got rewarded /more/ launches, and ESA /doubled/ the funding from the original €2 billion to €4 billion as you reported. I would not be surprised if the cost share that Arianespace was expected to cover has /dropped/.
They even got the unexpected windfall of the Amazon contract, encouraging them to delay even more to optimize the vehicle for this single large customer.
For sure they, like ULA and Blue Origin, are learning that just-in-time rocketry does not work. But the circumstances have been external enough* that they probably can get away with blaming 'force majeur', while still collecting the personal bonusses that caused the delays.
Even though the original schedule should have had them ready /before/ most of these setbacks were to happen.
*Unexpected outside impacts to schedule: Oneweb bankruptcy canceling first Ariane 6, C-band satellite launch sales, Covid, Ukraine War.
No posts
Ready for more?