Poland Complete Acceptance Phase for Three Space Debris Observatories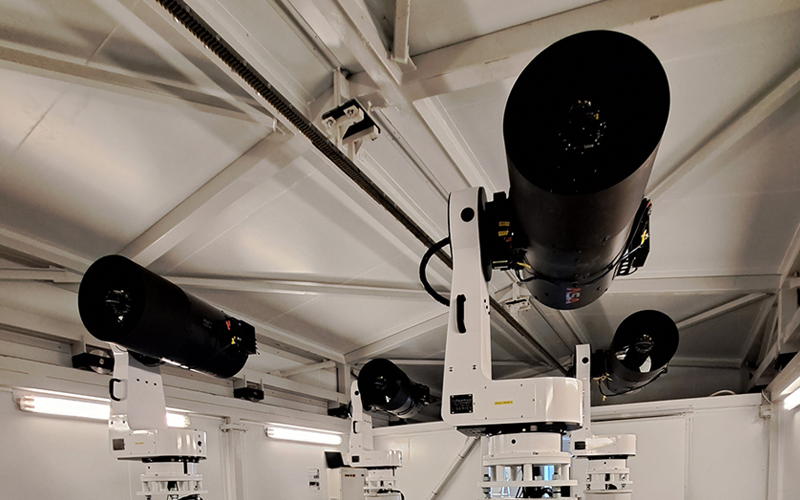 No products in the cart.
No products in the cart.
No products in the cart.
The Polish Space Agency (POLSA) has announced that it has completed the acceptance phase of three observatories that will be used to track satellites and space debris.
The three observatories are hosted at cooperating facilities in Australia (Siding Spring Observatory), Chile (Deep Sky), and South Africa (South African Astronomical Observatory). Funding for the project was co-financed with the European Commission providing half and Poland the other half. The total value of the investment was 34 million zloty (approximately €7.6 million).
The observatories are each made up of a set of four telescopes on independent high-speed arms capable of observing a field of view of more than 170 square degrees. Each telescope is equipped with a digital sCMOS camera with a high resolution of 14x10k and a speed of 10 frames per second. The telescopes can conduct observations independently or together to observe a larger slice of the sky.
According to the agency, each telescope will have the ability to observe objects smaller than 10 cm from a distance of several hundred kilometres in low Earth orbit, objects 10 to 35 cm in medium Earth orbits, and objects larger than 35 cm from tens of thousands of kilometres away in geostationary orbit.
Once fully operational, the network's primary functions will be to warn of possible in-orbit collisions, detect and detail fragmentation of space objects, and warn of objects re-entering Earth's atmosphere.
In addition to the three observatories already completed, POLSA plans to complete the installation of two more observatories in the US states of Utah and Hawaii. Once these observatories are complete, the agency will achieve global coverage.
European Spaceflight LTD Company number: 14287328 Registered address: Unit 13 Freeland Park, Wareham Road, Lytchett Matravers, BH16 6FA, Poole, UK
Contact number: +44 7873 215465
© European Spaceflight (2022)