RIDE! Hopes to Make Booking a Spaceflight as Easy as a Plane Ticket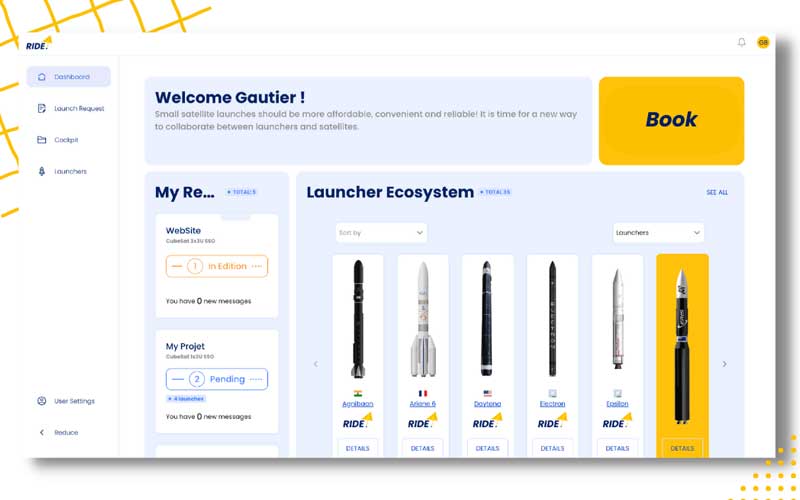 No products in the cart.
No products in the cart.
No products in the cart.
French launch aggregator RIDE! announced last week that it had signed an agreement with Arianespace to market Ariane and Vega flights on its digital platform. RIDE! COO Maxime Gaud spoke to European Spaceflight to share more about the company and how it offers flights to satellite operators.
What does RIDE! do?
RIDE! is a space tech company revolutionizing Space Access and the relationship between satellite operators and launch providers. Through our digital platform and AI, we enable satellite operators to find the best real-time space launch solutions and launch providers to acquire new qualified launch requests. Once the match is found, we facilitate the signature of their contract online. Then RIDE! offers a range of launch services to support operators leading up to the launch, including launch integration, regulatory support, and interface management.
What need were you trying to fill when you founded RIDE!?
In recent years, the space sector has been evolving rapidly, thanks in large part to the emergence of private players who are developing new technologies, new services, and pursuing new ambitions. Among these innovations, the miniaturization of satellites has played a significant role. It has opened up access to space for a greater number of actors looking to operate their own satellite or even a constellation of satellites. Starting from this observation, the first question we asked ourselves was how these new actors could easily explore all the available flight options to match their needs (such as orbits, flight budget, compliance, etc.). We realized that there was no existing digital tool that could facilitate launching a satellite as easily as booking a flight, for example. The second question we raised was for launch providers: how can they showcase their services to attract satellite operators, and how can they manage interactions with so many different actors for a single launch? Nowadays, launch providers offer rideshare opportunities. Whereas in the past, a satellite bound for geostationary orbit would fill an entire rocket and therefore involve only one point of contact, the miniaturization of satellites has created a multitude of actors eager to access space with smaller satellites that need to be launched in larger numbers to fill a rocket. The number of stakeholders for rocket launches has multiplied, and this is where RIDE! comes into play.
What type/size of payloads do you offer launch services for?
We offer our launch services to every type of payload, we do not do distinction for now.
Why would a customer choose to go through RIDE! instead of directly through a launch provider?
Who wouldn't want a French touch? To be more serious, we save our customers a tremendous amount of time when comparing launch opportunities. With RIDE! you just need one click, and the satellite operator will find the best matches available.
When you book a plane, some people love their airline company, and this is fine. But for the majority, they want to fly at a specific time, for a specific duration, at a specific price with a specific service. To know this, you need a smart digital platform, this is what RIDE! provides. But this is only a part of our services.
After the flight is chosen, we accompany our client to make sure they go through all compliances on time, and we ourselves deal with some of them to make the process easier, including:
When will the first RIDE! customer launch?
We are happy to tell you it is planned for the beginning of next year. We are really excited about it. Overall, we are going to launch more than 20 satellites in the upcoming two years.
Recently, you signed an agreement with Arianespace to market the company's Ariane 6 and Vega launches. How significant was this agreement for RIDE?
I am just gonna quote Valentin [RIDE! CEO Valentin Benoit] on this: "Arianespace is a global leader in space launch, so it was important for RIDE! to be able to offer Vega C and Ariane 6 flights on its digital platform. RIDE!'s vision of providing a simple, reliable, and affordable launch experience aligns perfectly with Arianespace's rideshare strategy. Through this agreement, I also hope to demonstrate to the entire ecosystem that contracts between "New Space" startups and "Legacy Space" major players can be established sustainably and fairly. I hope this paves the way for more contracts of this kind."
What other launch providers does RIDE! facilitate flights with?
Overall RIDE! works with a network of 40+ launch vehicles and OTVs. However, not all of them are fully integrated on the RIDE! launch-on-demand digital platform. We have recently announced agreements with Arianespace, of course, but also with Exotrail and Cas Space. And stay tuned, because we are going to announce a new agreement next month with another launch vehicle.
Are you seeing customers frustrated by the lack of launch capacity in Europe in the near term?
Yes, that's a fact. There is some frustration out there. There is a lack of European launch vehicles, and most of the commercial satellites are launched by SpaceX, including the European ones. However, I feel positive in a future, not that far away, that many European launchers are going to be available that fill this lack of launch capacity.
How many launch providers do you think the European market can support over and above Arianespace?
The more, the merrier.
European Spaceflight LTD Company number: 14287328 Registered address: Unit 13 Freeland Park, Wareham Road, Lytchett Matravers, BH16 6FA, Poole, UK
Contact number: +44 7873 215465
© European Spaceflight (2022)