RocketStars: Ron McKee serves as SBIRS GEO 6 launch conductor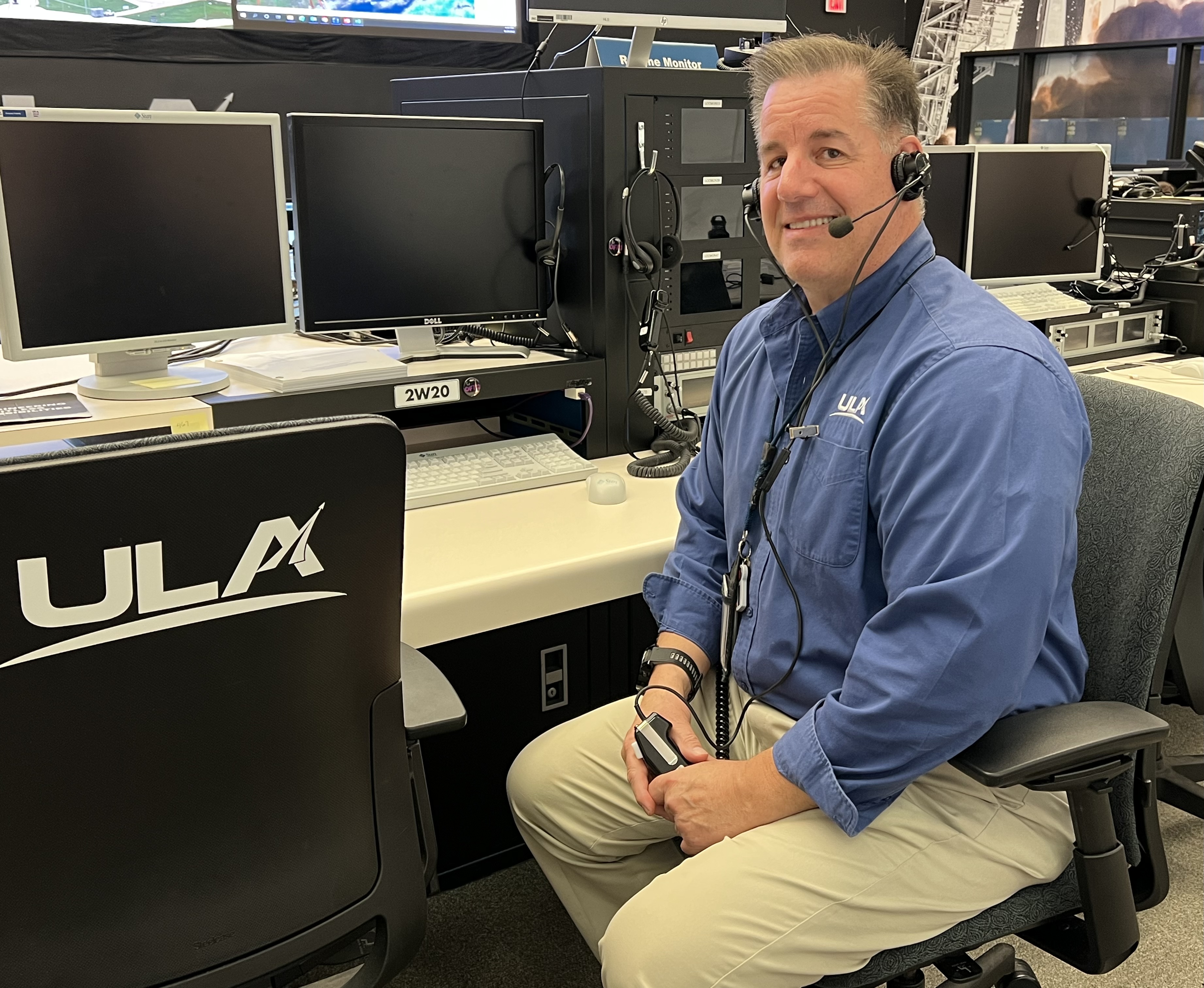 August 1, 2022
ULA SBIRS GEO 6 Launch Conductor Ron McKee.
Once a missileer on station to defend the nation, Ron McKee now works at United Launch Alliance (ULA) where he will orchestrate the Atlas V countdown as the launch conductor for the sixth Space Based Infrared System (SBIRS GEO 6) early warning satellite.
McKee entered service in the U.S. Air Force as an electrical specialist for Titan II intercontinental ballistic missiles at Little Rock Air Force Base in the 1980s. The weapon system served as a critical deterrent throughout the Cold War.
After the Titan IIs were deactivated, McKee was transferred by the Air Force to Cape Canaveral where he began a stint as a spacecraft test controller before moving to the 3rd Space Launch Squadron as a space launch controller providing oversight of the Atlas II and III rocket programs.
Additionally, he spent five years at Air Force Space Command headquarters in the late 90s and early 2000s working on mission programming and planning and Range policy and guidance. He concluded his Air Force career at Cape Canaveral as a Delta IV space and missile systems controller.
Joining ULA in the company's early days, McKee has spent the majority of the past 15 years as a Range Coordinator, which is the primary liaison between ULA and the Eastern and Western Ranges that provide launch vehicle telemetry collection, communications, tracking, safety and weather forecasting support for launches.
In January, McKee was elevated to the role of ULA launch conductor on the United States Space Force (USSF)-8 mission that saw the Atlas V rocket successfully deliver two space situational awareness satellites directly into geosynchronous orbit.
I would characterize my emotion for being a launch conductor for the first time as guarded elation, it is the culmination of years of hard work, training, mentoring and implacable patience, McKee said.
Many hours of on-the-job experience gained through mission rehearsals, countdown simulations and sitting in during actual launch attempts prepared McKee for this important job.
The ULA launch conductor's paramount role is to manage and execute the launch countdown procedure and process from rollout of the launch vehicle to the pad through liftoff and ascent.
McKee will be in the launch conductor's seat once again Aug. 4 on the back row of the launch control center at the Atlas Spaceflight Operations Center. He will be at the helm of the countdown that begins nearly seven hours before the planned liftoff of the Atlas V rocket with the SBIRS GEO 6 spacecraft.
Born in a small, bucolic town in upstate New York, McKee holds a degree in aeronautical science at Embry Riddle Aeronautical University.
Known for eating the same lunch every day -- peanut butter and jelly sandwiches – McKee can be found watching Harry Potter, Star Wars and Star Trek movies, or at the local gym lifting weights with his son or reading books on his phone or tablet.
While the memories of the many launches that I've been a part of are profoundly important if not surreal, what I take with nearly ecclesialmeasure is the profound gratitude to be able to work with what can be easily argued some of America's best and brightest people that I've had the privilege to work with during my tenure in the space launch industry, McKee said.
Certainly launching successfully is our goal, but those goals are tangential without taking stock and measure of who we achieved those extraordinary goals with that carries with me during these larger than life moments in the space launch world.
ULA will provide comprehensive live updates on the Atlas V countdown and flight starting Aug. 3 at 11:00 p.m. EDT (030 UTC) in our automatically refreshing blog. A webcast of the launch begins at 6:09 a.m. EDT (1009 UTC), 20 minutes before liftoff.
Learn more about the Atlas V SBIRS GEO 6 launch
See more photos in our SBIRS GEO 6 album
July 18, 2022
August 4, 2022
May 18, 2021