SpaceX launches 50th mission of the year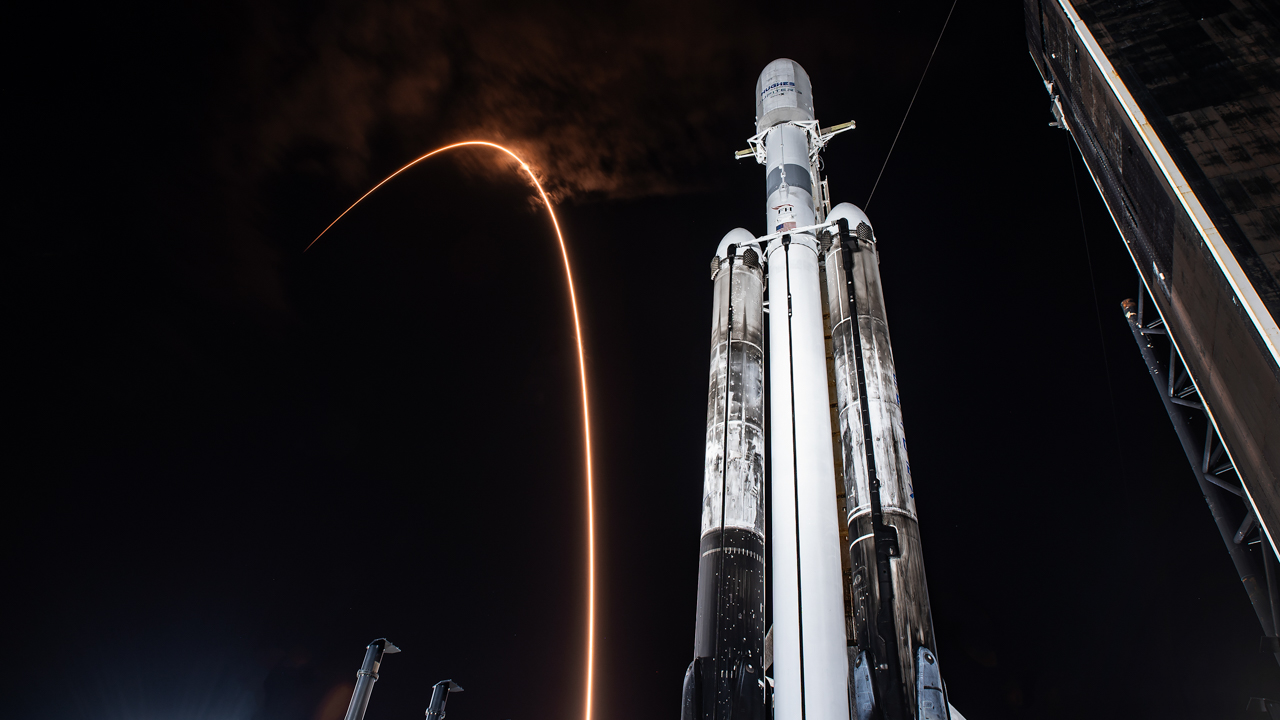 After a series of weather delays, SpaceX launched 22 V2 mini Starlink satellites into low Earth orbit from Space Launch Complex 40 at Cape Canaveral Space Force Station just after midnight.
Originally intending to launch at 10:20 p.m. ET, weather forced SpaceX to delay a couple of times to the end of their launch while storm clouds cleared around the Space Coast.
Liftoff! pic.twitter.com/IkhDAaCc8R
— SpaceX (@SpaceX) July 28, 2023
The 22 Starlink satellites were launched to the South East from Space Launch Complex 40 to join Group 6 of the Starlink constellation. This mission, Starlink Group 6-7, was launched into a 43-degree orbital inclination. SpaceX is now only launching these upgraded V2 mini Starlinks as they improve their constellation capabilities and phase out older, less capable Starlink satellites.
One advantage of launching after summer thunderstorms in Florida is the added humidity. Shortly before the Falcon 9 hit Max Q (Maximum Dynamic Pressure), the Falcon 9 accelerated past supersonic speeds, and with high humidity, it can create a vapor cone around the rocket.
SpaceX delays Falcon Heavy, moves forward with Starlink launch
Last night, SpaceX photographer, Ben Cooper, captured just that as a giant vapor cone formed and even created a rainbow effect as the light from the 9 Merlin 1D engines passed through the condensation, and if the weather stays roughly the same, it could create quite a dramatic view as the Falcon Heavy launches later tonight.
Falcon 9 launches 22 @Starlink satellites to orbit from Florida on SpaceX's 50th mission of 2023! pic.twitter.com/eGfwWHVkcj
— SpaceX (@SpaceX) July 28, 2023
Following stage separation, Falcon 9 B1062 landed on the droneship 'A Shortfall of Gravitas' eight-and-a-half minutes after lift-off completing its 15th launch and landing. The two fairing halves on this flight were both flying for their second time.
Falcon 9's first stage has landed on the A Shortfall of Gravitas droneship pic.twitter.com/Kp7GuMPbEK
— SpaceX (@SpaceX) July 28, 2023
This was the 50th overall orbital mission of the year for SpaceX and the 48th for the Falcon 9. SpaceX has now had 220 consecutive successful launches and 136 consecutive Falcon recoveries.
Coming up next for SpaceX will be the Falcon Heavy launching the Echostar XXIV/Jupiter 3 communications satellite. The 99-minute launch window opens at 11:04 p.m. (03:04 UTC) ET tonight.
Questions or comments? Shoot me an email at [email protected], or Tweet me @RDAnglePhoto.
Following the delayed launch of the most recent Falcon Heavy launch, NASA and SpaceX...
A new leaked video shows several Tesla Cybertrucks lined up inside the plant at...
The Tesla Semi is perhaps the most groundbreaking vehicle in the commercial industry in...
Tesla is adding a nifty new climate control feature to complement a driver's ability...
Earlier today, SpaceX partially fueled Booster 9, continuing a series of tests before its...
Copyright © TESLARATI. All rights reserved.