SpaceX moves Booster 9 to the Orbital Launch Mount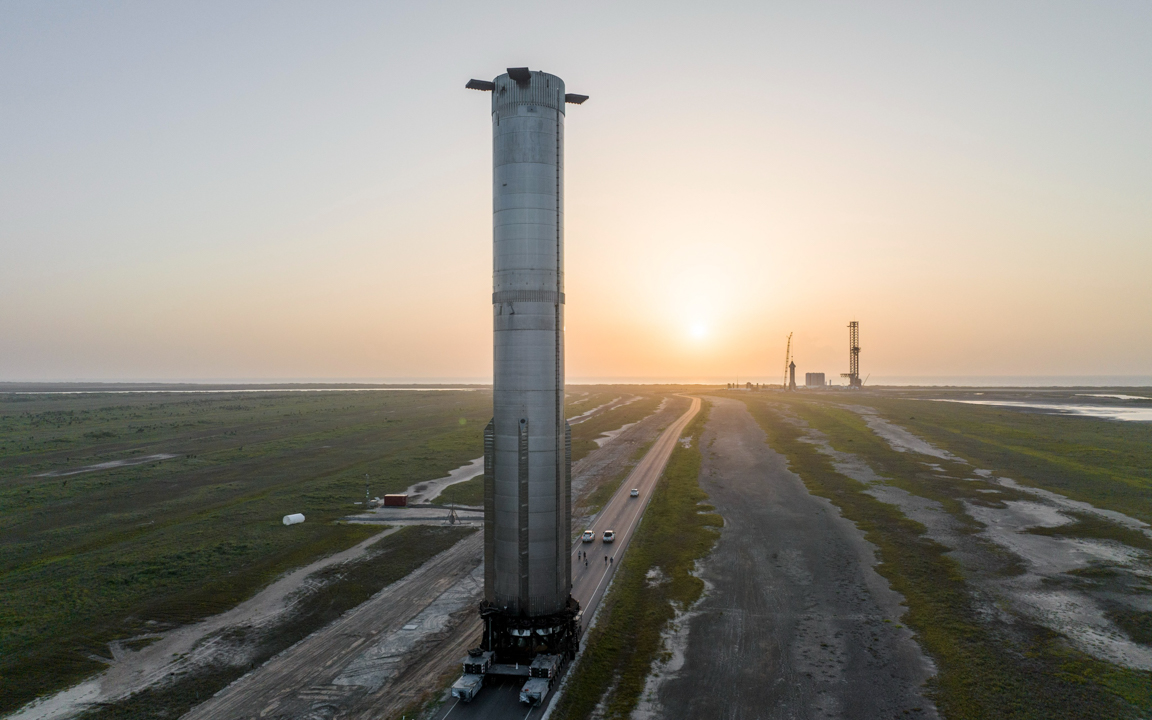 Yesterday morning, SpaceX rolled Booster 9 and, later in the evening, raised the massive booster onto the Orbital Launch Mount.
This is the first time a booster has been joined together with the launch pad since the April 20th Integrated Flight Test of Starship. It's unknown how long the booster will remain atop the launch mount for its test campaign. Both Ship 25 and Booster 9 are now together at the launch site for the first time to undergo testing since being picked for the next test in May.
Starship Super Heavy Booster 9 transported to the orbital launch pad at Starbase for testing ahead of flight pic.twitter.com/fF6U13thzs
— SpaceX (@SpaceX) July 20, 2023
Since the IFT test and its unplanned excavation, SpaceX has been busy around the clock with repairs and upgrades to the launch mount, orbital tank farm and, water deluge system. The company is still in the process of repairing the area but has clearly made enough progress to begin testing Booster 9 ahead of its flight test in the coming months.
The most noticeable difference to the launch pad has been the installation of the water deluge system, which features a steel plate with holes cut at different angles to cover a wider area with water. The system is similar to a shower head, albeit with much more power behind it. It was first tested on July 17th and is thought to only be a partial test.
There could be a full test of the system next week as SpaceX has closures scheduled for the 23rd through the 25th and a potential static fire on deck for Booster 9.
Check out these amazing shots of the Booster 9 Raptor engines from Jack Beyer of NSF!
Super Heavy Booster's 33 Raptor engines. Looking so clean! @NASAspaceflight pic.twitter.com/NNxdrTeTgS
— Jack Beyer (@thejackbeyer) July 21, 2023
While there is still work to be done ahead of a flight test, this has been quite an incredible pace for SpaceX to repair and begin testing of the launch mount and associated systems.
Meanwhile, during this, SpaceX has just recently performed a cryogenic proof test of Booster 10 at the Masseys Test Facility and this morning moved Ship 28 to Masseys to begin its cryogenic proof test campaign. Back at the production site, Ship 27 has been cut in half, to be scrapped.
Questions or comments? Shoot me an email at [email protected], or Tweet me @RDAnglePhoto.
Following the delayed launch of the most recent Falcon Heavy launch, NASA and SpaceX...
A new leaked video shows several Tesla Cybertrucks lined up inside the plant at...
The Tesla Semi is perhaps the most groundbreaking vehicle in the commercial industry in...
Earlier today, SpaceX partially fueled Booster 9, continuing a series of tests before its...
Boeing expects the Starliner crew capsule to be ready no earlier than March 2024....
Copyright © TESLARATI. All rights reserved.