SpaceX's Booster 9 performs 2nd static fire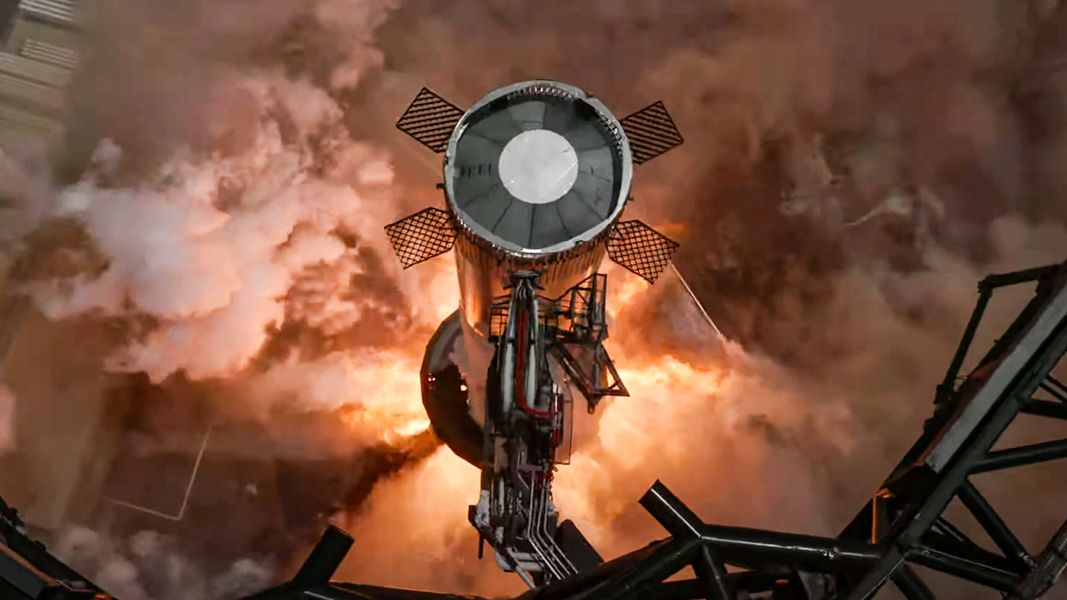 Booster 9 performed what looked like a nominal static fire test as SpaceX moved closer to the 2nd integrated test flight.
After making the trek from the production site to Orbital Launch Mount, SpaceX performed a spin prime test on the booster, and following that test, SpaceX took a day to go over the rocket and moved forward with the static fire test.
Watch Super Heavy Booster 9's second static fire https://t.co/70DvF5MfKP
— SpaceX (@SpaceX) August 25, 2023
Fueling of the massive Super Heavy first stage began about an hour before the static fire and held at t minus 40 seconds while fuel temperatures cooled to the proper levels, and once they hit that mark, the countdown resumed.
The FireX system designed to disperse gases started at t minus 20 seconds, followed by the water deluge system initiating at t minus 5 seconds.
Booster 9 then lit its Raptor engines and performed a full-duration static fire of around 5 seconds before the engines shut down as planned. SpaceX did not confirm if all 33 engines lit and would update that later on X, however, Elon Musk said the static fire was successful.
Successful Starship Super Heavy Booster static fire! https://t.co/YclxqPCDRo
— Elon Musk (@elonmusk) August 25, 2023
If the data comes back good and SpaceX is confident in Booster 9's performance, we could see Ship 25 make its way to the launch pad and be stacked on top of the booster.
After the static fire was complete and fuel offload began, SpaceX also performed a test of the Ship's quick disconnect and swung the arm away as it would during a launch.
SpaceX still has multiple hurdles to clear ahead of the 2nd test flight, including approval from the Federal Aviation Authority. There are also lawsuits currently pending against SpaceX from environmental groups, but it's unknown if those would prevent a flight.
Do you think there is a chance we could see a test flight in September?
Questions or comments? Shoot me an email at [email protected], or Tweet me @RDAnglePhoto.
SpaceX has made remarkable progress at Starbase, but will they attempt a launch anytime...
The Tesla Cybertruck is, for all intents and purposes, a very large vehicle. With...
Back in February, Tesla CEO Elon Musk noted that the Cybertruck would effectively change...
Tesla has officially laid down the law on employees leaking pictures and videos of...
Recent photos shared by electric vehicle enthusiasts online have revealed that a fleet of...
Copyright © TESLARATI. All rights reserved.