The Atlantic tropics are on fire—it already looks like August out there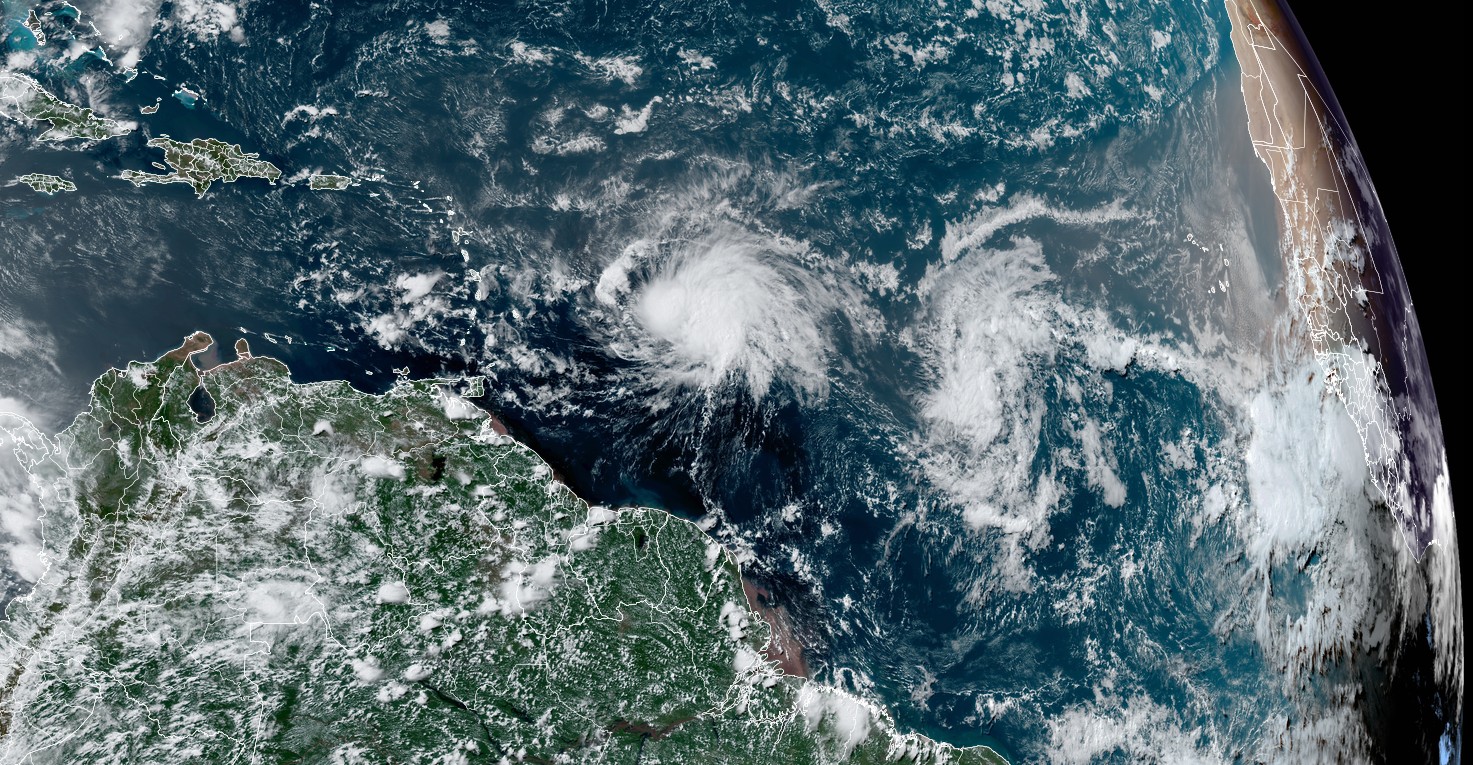 Front page layout
Site theme
Eric Berger - Jun 21, 2023 9:25 pm UTC
To put it mildly, there are some extremely disturbing trends happening on planet Earth with its weather and climate right now.
For example, the thickness and extent of the Antarctic sea ice is off-the-charts low. Based on current measurements, taken near the winter solstice in the Southern Hemisphere, the sea ice extent is far below any previous year for which data is available, going back to 1981. The current extent is two standard deviations below the mean.
Closer to where I live, in Texas, the state is sweltering due to a dome of anomalously high pressure situated over northern Mexico and the southern part of the Lone Star State. This has been pushing temperatures to record highs across the state. On June 18, for example, the border town of Del Rio recorded a high of 111° Fahrenheit, smashing its old record for the day by 5°.
Another border town named Rio Grande Village, near Big Bend, hit 118° degrees on June 20. This came to within 2° of the state's all-time record for a temperature on any day, in any month, in any location. Summer usually peaks in Texas in August.
Both of these trends are consistent with what one would expect from a warming world due to greenhouse emissions.
Then there is the tropical Atlantic Ocean, where Tropical Storm Bret is nearing hurricane strength, although wind shear may prevent the system from reaching that threshold as it approaches the Caribbean Sea. Just behind Bret is another tropical wave with a good chance of becoming Tropical Storm Cindy in the next few days.
Pulling back and looking across the entire Atlantic basin, there is a third tropical wave emerging off the coast of Africa that looks surprisingly vigorous as well. This system probably will not develop as it pulls in dry air, but the overall picture is rather incredible for June.
Typically, this is what the Atlantic tropics look like in late August or September when seasonal activity peaks and the African wave train starts rolling. It is at this point that tropical waves—not literal waves in the ocean, but areas of low pressure in the atmosphere—start moving westward off Africa into the Atlantic Ocean with some regularity and find a favorable environment in which to strengthen. This area of the Atlantic between Africa and stretching into the Caribbean Sea is helpfully known as the main development region.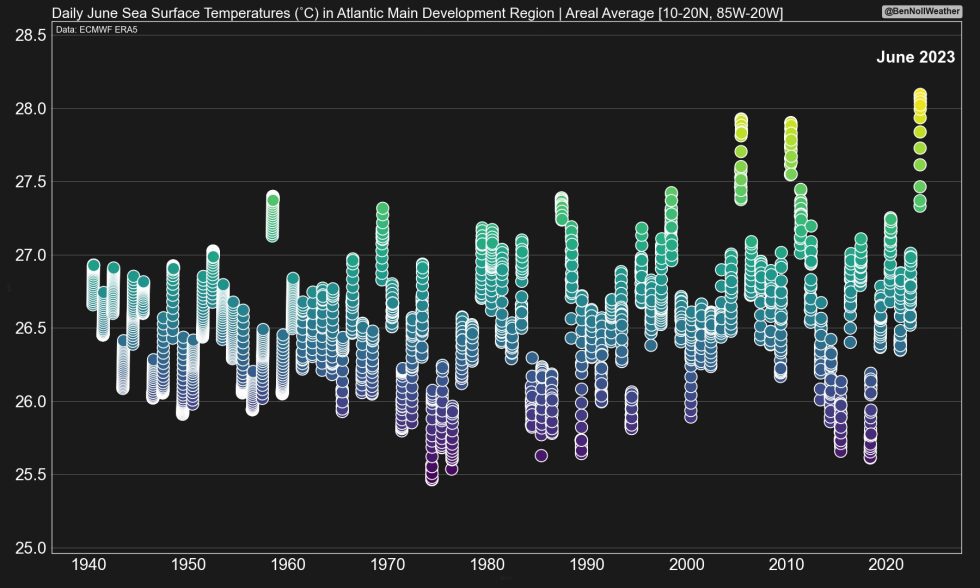 So what's going on out there? Well, it's freaking hot. Ben Noll, a New Zealand meteorologist, noted Monday that sea surface temperatures in the main development region are warmer now than they have ever been in June. The oceans, in fact, are about as warm as they would be during a normal August.
As for what's out there now, hurricane scientist Phil Klotzbach said that no June, in records dating back more than a century, has ever produced two named storms in this main development region. Fortunately, neither Bret nor Cindy, if it forms, should prove too problematic.
Because Bret is likely to track toward the Caribbean Sea over the next few days, a Tropical Storm Warning is now in effect for St. Lucia, while a Tropical Storm Watch remains in effect for Barbados, Dominica, and Martinique. Additional islands may be affected. Wind shear should dissipate the storm after it moves into the Caribbean Sea. The storm behind Bret is likely to turn north into the open Atlantic and not directly impact landmasses.
What all of this means for the rest of the Atlantic hurricane season remains unclear. The bulk of the season's activity occurs from mid-August to mid-October, and it is a bit worrisome to contemplate how warm and conducive seas will be to hurricanes by then. However, a strengthening El Niño in the Pacific should ratchet up wind shear over the Atlantic this summer. So it's kind of a big battle, and seasonal forecasters like Klotzbach are not sure how things will go.
As a coastal resident in Texas, I'm rooting for shear.
Join the Ars Orbital Transmission mailing list to get weekly updates delivered to your inbox. Sign me up →
CNMN Collection
WIRED Media Group
© 2023 Condé Nast. All rights reserved. Use of and/or registration on any portion of this site constitutes acceptance of our User Agreement (updated 1/1/20) and Privacy Policy and Cookie Statement (updated 1/1/20) and Ars Technica Addendum (effective 8/21/2018). Ars may earn compensation on sales from links on this site. Read our affiliate link policy.
Your California Privacy Rights |
Do Not Sell My Personal Information
The material on this site may not be reproduced, distributed, transmitted, cached or otherwise used, except with the prior written permission of Condé Nast.
Ad Choices