The time Europe tried to copy Energia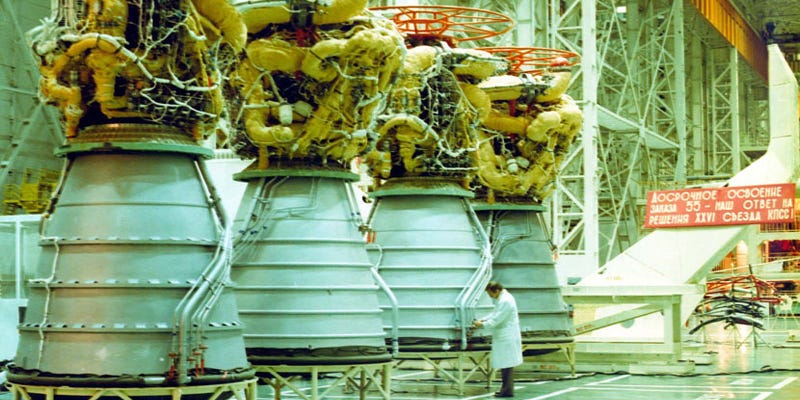 Issue 4.
To my 42 paid subscribers, thank you so much for supporting the newsletter. Your support has already given me a number of additional avenues for research that I previously could not justify, one of which inspired this issue.
For those of you who are not yet paid subscribers, there is a short preview and the option to opt for a seven-day free trial period to view the full issue. Alternatively, the next free issue of the newsletter will be in your inbox on Monday.
I recently came across a brief reference to a Russia-Europe Cooperation on Rocket engine Demonstration (RECORD) project in a November 1996 edition of Aviation Week. I was, however, unable to find very much additional information about the project online. This had me intrigued. Although information is scarce, I did manage to track down a few hard-copy documents related to the project in the Historical Archives of the European Union who were gracious enough to scan the documents for me.
The RECORD project was initiated by the French company Société Européenne de Propulsion (SEP) in August 1993. As a little background, SEP was the primary contractor for the main propulsion systems of the Ariane 4 and 5 vehicles and was responsible for the development of the Vulcain engine.
This new project was to include all industrial partners involved in the development of the Vulcain engine. Each partner would analyze the Russian equivalent of the hardware produced for Ariane. The aim of this work was to give the companies an opportunity to analyze elements of a staged combustion engine, a technology that Europe had not yet mastered, in order to fast-track the development of the next generation of European propulsion technology beyond Vulcain. An initial outline of the project proposed that a staged combustion engine could be used for long-term improvements to Ariane 5 and possibly even aboard future reusable launch vehicles.
Subscribe to Europe in Space to keep reading this post and get 7 days of free access to the full post archives.